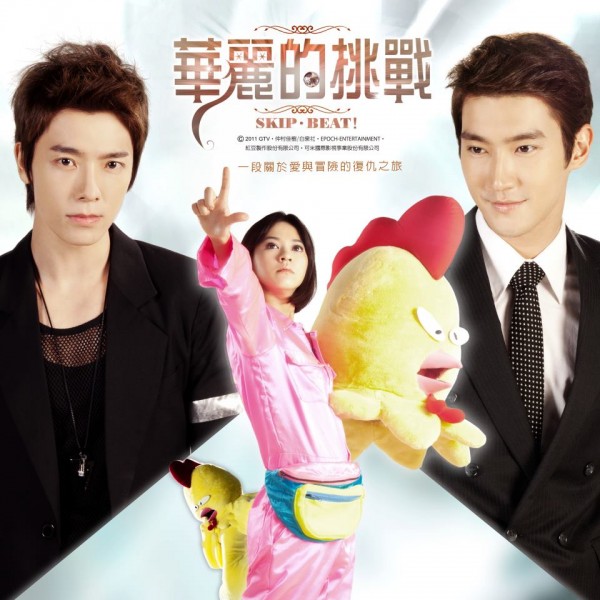 Drama Title: Skip-Beat!
Chinese Name: 華麗的挑戰
Pinyin Title: Hua Li De Tiao Zhan
Japanese Name: スキップ・ビート!
Also Known As: Extravagant Challenge / Skip Beat!
Genre: Romance
Episodes: 13
Broadcast Place: Taiwan
Broadcast network: FTV / GTV
Broadcast period: 18 December 2011 (FTV) / 24 December 2011 (GTV)
Language: Chinese
Air time: Sunday 9:40 PM (FTV) / Saturday 10:30 PM (GTV)
Preceded By: In Time with You
Followed By:
Plot Summary
The drama tells the story of a girl who is working hard to enter entertainment industry with vengeance after been cheated in feeling to become popular celebrity, and her love story with two famous singers.
Synopsis
Gong Xi used to be just an ordinary junior high school graduate, because of request of childhood sweetheart Bu Po Shang, she gave up attending high school, and followed him to go to city for career. Bu Po Shang works hard for his dream to be singer, while Gong Xi takes care of him, and also works crazily everyday to earn money with no regrets, in total disregard of herself. But after Bu Po Shang successfully debuted and became popular, he began to alienate Gong Xi. Eventually one day Gong Xi discovers that Bu Po Shang was just using her.
After devoting all efforts, what Gong Xi who was dumped gets in return is been hurt with unbearable words, and under this circumstance, Gong Xi decides with great resentment to become celebrity, but fortunately the entertainment circle with Bu Po Shang knocks her out fiercely!
Gong Xi choose the brokerage firm LME which is equal in size with brokerage firm of Bu Po Shang, to be the springboard to be celebrity, but she is deemed by president to be "out of love and heart looking forward to love," and is grouped to the newly established "Love Me" department. But she meets with the man of great influence in her life in LME, Dun He Lian, and starts the love story towards success.
Cast
Ivy Chen Yi Han (陳意涵) as Gong Xi (宮囍)
Choi Si Won (최시원) as Dun He Lian (敦賀蓮)
Lee Dong Hae (이동해) as Bu Po Shang (不破尚)
Bianca Bai (白歆惠) as Jiang Nan Qin (江南琴)
King Chin (金勤) as Du Jin (杜金)
Ada Pan Hui Ru (潘慧如) as Yang Yang (鴦鴦)
Zhao Shu Hai (趙樹海) as Luo Li (羅利)
Frances Wu Zhao Xian (吳兆絃) as Ma Li Ya / Maria (瑪莉亞)
Charge Pu Hsueh Liang (卜學亮) as Shen De Yuan (椹德元)
Dong Zhi Cheng (董至成) as Gui Xiu Ren (桂秀仁)
Jean Lee Yi Jin (李依瑾) as Liu Li Er (琉璃兒)
Jessie Zhang (張本渝) as Xu Yong Chun (徐永春)
Cindy Song Ji Yan (宋紀妍) as Kuang Mei Sen (鄺美森)
Ke Shu Qin (柯淑勤) as Qin Jie / Sister Qin (晴姐)
Cherry Xia Ru Zhi (夏如芝) as Yi Mei (逸美)
Lawrence Ko Yu Luen (柯宇綸) as Director Xin Yuan (新垣導演)
Zhang Shao Huai (張少懷) as Director Xu Fang (旭方導演)
Luo Bei An (羅北安) as Director Hei Long (黑龍導演)
Chen Bo Zheng (陳博正) as Boss Bu Dao Weng (不倒翁老板)
Ge Lei (葛蕾) as Wife of Boss Bu Dao Weng (不倒翁老板娘)
Angus Chang Chia Hui (張家慧) as Fei Li Hua (費梨花)
Fu Xian Cheng (傅顯誠) as Lin Ying (林鷹)
Production Credits
Director: Jerry Feng (馮家瑞)
Producer: Kim Eun Ryung (钮承泽)
Trivia
Based on adaptation from mange Skip Beat! (スキップ・ビート!) by Nakamura Yoshiki (仲村佳樹).
The first adaptation into Chinese drama.
The original casting in April 2008 was Jerry Yan and Ariel Lin in leading roles while Joseph Cheng in supporting role, with Qu You Ning as director. Jerry Yan and Ariel Lin even appeared in the press conference took place on November 17, 2008 in Tokyo, Japan. However, on January 9, 2009, GTV was forced to postpone the filming of drama indefinitely after management change of Japanese producer and re-editing of the script. The casts were undergoing change too with Korean boy band Super Junior's Siwon and Donghae joined the cast on August 31st, 2011. In February 2011, Ariel Lin officially rejected the role. The new casting, director and firm filming schedule was only confirmed in March 2011.

Official Site (GTV)
Official Site (FTV)

Watch online with English subtitle (not yet available).
Watch online with Chinese subtitle (not yet available).

Photo Gallery

Skip Beat!

Skip Beat! Behind the Scene of Chicken Suit

Skip Beat!

Skip Beat! Word Premiere in Taipei