B1A4 has participated in the OST of SBS's Wednesday and Thursday drama series Take Care of Us, Captain (Fly Again) with the release of an original sound track titled Sky on January 4th, 2012. The song of Sky is the main title track for drama starring Ji Jin Hee and Ku Hye Sun.
B1A4 (비원에이포) is a South Korean quintet boy band which made their debut in April 2011. Their popularity soared after releasing two mini-albums, "Let's Fly and "It B1A4," and the group becomes the most popular rookie group of the year by end of 2011. They're the most promising star of 2012 as they won the "Hot Debut Star" on SBS and MTV's Best of the Best Awards, Super Rookies for 2012 on Wave K, and Newcomer Award on K-Pop Lovers! Awards 2011 by Tower Records, the biggest music store chain in Japan. They are currently nominated for the "Newcomer Award" at the Golden Disk Awards and the Seoul Music Awards.
It's rare for a rookie to be given the opportunity to sing the OST main title track. Producer said they considered B1A4 as the OST singer right from the planning stage of the drama, as they elt that B1A4 would fit admirably, as their sweet and powerful voice can bring more strength to the drama.
Sky is co-produced by compose Jo Min Sung and director cum songwriter Louie who also directed the OST for Sungkyunkwan Scandal, Spring Day, Dal Ja's Spring, Piano and others. Sky features a lively, mid-tempo beat along with a smooth melody.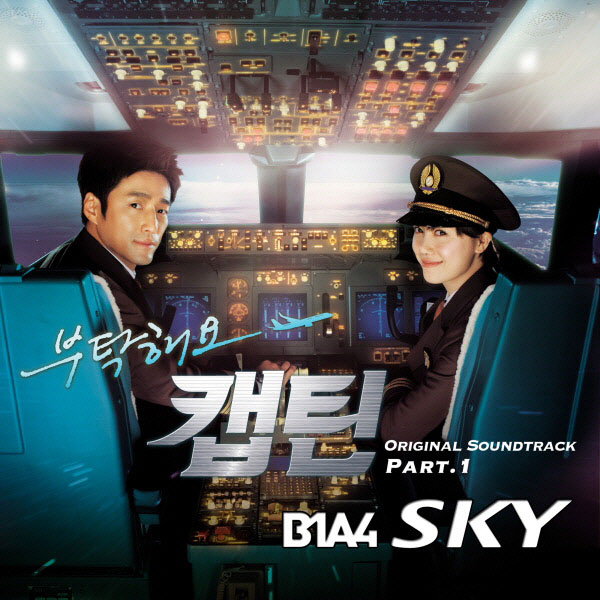 Take Care of Us, Captain (부탁해요 캡틴) OST Part 1 Track List
Sky – B1A4
Sky – Instrumental
Listen to Sky at YouTube.
Sky Korean Lyric (with Romanization Pronunciation)
태양이 잠드는 곳 노을이 번지는 고
taeyang-i jamdeuneun gos no-eul-i beonjineun go
모든 꿈이 별이되는 Sky
modeun kkum-i byeol-idoeneun Sky
하늘이 너를 많이 닮았어 처음엔 그게 마냥 좋았어
haneul-i neoleul manh-i dalm-ass-eo cheoeum-en geuge manyang joh-ass-eo
맑고 투명한 니 표정들 예쁘고 싫지 않았어
malg-go tumyeonghan ni pyojeongdeul yeppeugo silhji anh-ass-eo
널 밀어내고 날 타이르고 돌아서봐도
neol mil-eonaego nal taileugo dol-aseobwado
자꾸 너만 떠올라 너만 자라나 온통 너뿐이야
jakku neoman tteoolla neoman jalana ontong neoppun-iya
I cant stop 두 눈을 가려봐도 두 귀를 막아봐도
I cant stop du nun-eul galyeobwado du gwileul mag-abwado
또 다시 난 너를 찾아 Touch the Sky 가슴에 니가 돌아다녀
tto dasi nan neoleul chaj-a Touch the Sky gaseum-e niga dol-adanyeo
(can't stop) 노을이 번지는 하늘 끝까지 사랑이 잠든 곳 세상 끝까지
(can't stop) no-eul-i beonjineun haneul kkeutkkaji salang-i jamdeun gos sesang kkeutkkaji
너와 함께 날아올라 Touch the Wind 이젠 너하나로 충분해
neowa hamkke nal-aolla Touch the Wind ijen neohanalo chungbunhae
언젠가 (아파서) 울고있는 너의 모습
eonjenga (apaseo) ulgoissneun neoui moseub
슬픈표정 본 뒤엔 내 맘도 너처럼 온종일 비가와
seulpeunpyojeong bon dwien nae mamdo neocheoleom onjong-il bigawa
널 밀어내고 날 타이르고 돌아서봐도
neol mil-eonaego nal taileugo dol-aseobwado
자꾸 너만 떠올라 너만 자라나 온통 너뿐이야
jakku neoman tteoolla neoman jalana ontong neoppun-iya
I cant stop 두 눈을 가려봐도 두 귀를 막아봐도
I cant stop du nun-eul galyeobwado du gwileul mag-abwado
또 다시 난 너를 찾아 Touch the Sky 가슴에 니가 돌아다녀
tto dasi nan neoleul chaj-a Touch the Sky gaseum-e niga dol-adanyeo
(can't stop) 노을이 번지는 하늘 끝까지 사랑이 잠든 곳 세상 끝까지
(can't stop) no-eul-i beonjineun haneul kkeutkkaji salang-i jamdeun gos sesang kkeutkkaji
너와 함께 날아올라 Touch the Wind 이젠 너하나로
neowa hamkke nal-aolla Touch the Wind ijen neohanalo
Look at me my Sunshine (Sunshine)
Look at me my Sunshine (Sunshine)
구름을 타고 둥실둥실 날아가 우리 둘 사인 (우리 둘 사인)
guleum-eul tago dungsildungsil nal-aga uli dul sain (uli dul sain)
한 장의 아름다운 작품 오늘 밤 그대 품에서 잠들고파
han jang-ui aleumdaun jagpum oneul bam geudae pum-eseo jamdeulgopa
내 귓가에 들려오는 달콤한 종소리 멈추지 않기를 바래본다
nae gwisga-e deullyeooneun dalkomhan jongsoli meomchuji anhgileul balaebonda
All Right 오늘 따라 더 푸르른 저 바다
All Right oneul ttala deo puleuleun jeo bada
I cant stop 구름에 가려져도 어둠이 막아서도
I cant stop guleum-e galyeojyeodo eodum-i mag-aseodo
언제나 난 너의 사랑 Touch the Sky 영원히 너만 지켜줄게
eonjena nan neoui salang Touch the Sky yeong-wonhi neoman jikyeojulge
(can't stop) 시간이 달려가도 내일이 다가와도
(can't stop) sigan-i dallyeogado naeil-i dagawado
걱정마 난 너와 함께 Touch the Wind 시간의 벽을 넘어서서 사랑할게 (약속할게)
geogjeongma nan neowa hamkke Touch the Wind sigan-ui byeog-eul neom-eoseoseo salanghalge (yagsoghalge)
Sky Lyric English Translation
At the place where the sun sleeps, at the place where the sunset spreads
Where every dream becomes a star, the sky
In truth, you look just as the sky, thus I like very much in the beginning
Your pure and clear face expressions are so pretty and likable
That's it (towards me) your name that closer gradually
But after knowing it's so called love, I begin to fear, if my heart will be hurt again
Even if I persuaded myself to push you away, and even turnaround to leave
I keep thinking of you, you are just like grown in my heart, my heart is all about you
I can't stop, even if I cover my eyes, even if I cover my ears
I look for you again, touch the sky, you're free to come and go in my heart
(can't stop) to the end of the sky where the sunset spreads, to the end of the world where the love is fast asleep
I want to fly high with you, touch the wind, it's enough to be with you
Sometimes (pain) Seeing the look of you crying
Whenever look at your sad expression, it's raining in my heart all day just like you
Even if I persuaded myself to push you away, and even turnaround to leave
I keep thinking of you, you are just like grown in my heart, my heart is all about you
I can't stop, even if I cover my eyes, even if I cover my ears
I look for you again, touch the sky, you're free to come and go in my heart
(can't stop) to the end of the sky where the sunset spreads, to the end of the world where the love is fast asleep
I want to fly high with you, touch the wind, it's enough to be with you
Look at me my sunshine (sunshine)
Ride the cloud and fly to the sky, between us (between us)
A beautiful masterpiece, I want to fall asleep in your embrace tonight
The sweet sound of bells ringing in my ear, I hope it will never stop
All right, the sea are even bluer today
I can't stop, even if I'm covered by the dark clouds, even if darkness blocks me
I will always be your love, touch the sky, I will protect you forever
(Can't stop) Even if time passes, even if tomorrow gets nearer
Don't worry, I will together with you, touch the wind, I will climb over the barrier of time and love you (I promise you)