Actor Song Chang Ui (33 years old) is donning the white coat to play the role of neurosurgeon Cha Yeo Wook who is born from a doctor family in JTBC Monday and Tuesday drama series Syndrome. He said, "Definitely want to shoot medical drama." He has been repeatedly in practice even without the script, and jokingly said, "After the end of shooting, I guess the proficiency level can actually perform a real surgery."
– Heard that there is training for Syndrome.
"The time during the training was very suffering, it's shocking looking at the brain surgery. But gradually over time, get used to it. The surgical procedure starts from drilling a hole at the top of brain. After removing the meninges, white powder will appear on the brain. The process during the training is portraying in the drama wholly intact. The experts also said, 'Complete the same with actual surgical scene,' feeling surprised. What's harder than actually surgery is the filming of the surgical scene. Even though I am playing the role neurosurgeon in the drama, but it's a very attractive field."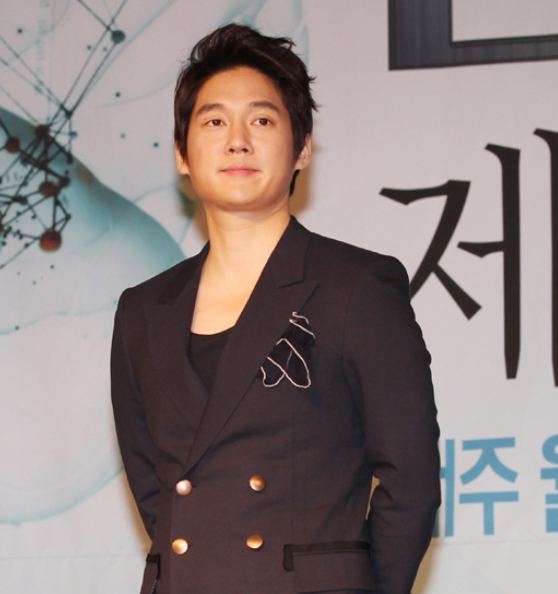 – Very special feeling for starring together with friend Park Gun Hyung.
"Already friend with Park Gun Hyung for 13 years, can dig at each other without hesitation but will feel very relaxed and happy. And will also point out lacking of each other, and will also praise unreservedly. When get too immerse into the drama, also can have argument. I am a humanity doctor full of caring, while Park Gun Hyung is a calm and thorough doctor. We confront each other representing our roles, this situation is very interesting."
– Playing the doctor role for the first time?
"Also played the role of doctor in Life is Beautiful, a character of physician, only wore a white coat. The professional medical drama is the first time, and heard a lot of praises like 'looks like a doctor from somewhere' that I am a good match for the role of doctor."
– For co-starring with Han Hye Jin, does girlfriend Lisa jealous?
"She very much likes it. Lisa and Han Hye Jin are old friends. In fact I want to jealous them for been too close. We become lover after starring together in Gwanghwamun Love Song, now we dated for almost a year or so."
– There is a lot of comparisons with medical drama Brain.
"Always want to appear in medical drama, after watching Brain, the desire got stronger. Therefore, when the production team of Syndrome invited me, I agreed readily. Somebody worried about general programming service channel, but for actors, there is desire for good drama and good role, and I also want the drama and acting both received praises."
via Joongang Daily