The handsome actor Song Joong Ki recently revealed the secret for his beautiful skin, attracting the attention.
The SBS TV's "Midnight TV Entertainment" aired on the October 19th, 2011, Song Joong Ki who played the role of young King Sejong in Deep Rooted Tree that received favorable reviews was interviewed.
When asked about the secret for his beautiful skin, Song Joong Ki laughed and said jokingly, "it's such a burden. Because of skin it's more likely to loke me."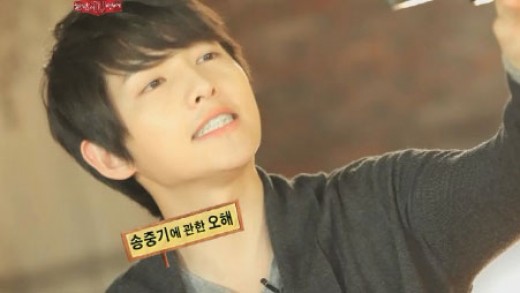 He then answered, "It is important to take care of my skin and I heard that having a comfortable stomach is very important. So I eat apple and drink yogurt everyday. At the same time I aslo try to take care of my health and my skin as well through regular motions."
Song Joong Ki also revealed an incident that happened because of his skin, "The most memorable episode was when I appeared on Obstetrics and Gynecology Doctors drama series. Jang Seo Hee and Ahn Sun Yung didn't want to stand besides me when we had to be in one scene. They also took the reflecting plates supposed to be used for me when we were shooting scenes together." To the question that if he has a muscular body, Joong Ki said, "I tried to exercise but it doesn't get any better. I am jealous of Ok Taec Yeon for his muscles. I don't have a six-pack."
Photos of Song Joong Ki when young were also released and his thoughts of being actor were also talked about during show.
via TVReport