Actor Song Seung Heon made public an intimate photo of him taken together with Lee Bum Soo and Kim Jae Joong, attracting people's attention.
Song Seung Heon uploaded a photo on his me2day account on May 29th, 2012, and wrote, "Together with sturdy brother Bum Soo and handsome Jae Joong." The trio are currently participating in the filming of the MBC weekend drama "Dr.Jin". In the photo, Song Seung Heon and Kim Jae Joong thumbed up high beside Lee Bum Soo, smiling brightly. Lee Bum Soo who was sitting in the middle is full of leadership style, two thumbs up, and also smiled very brightly.
Song Seung Heon subsequently explained the photo, "We're the three musketeers of Dr. Jin," conveying the happy shooting atmosphere on the scene.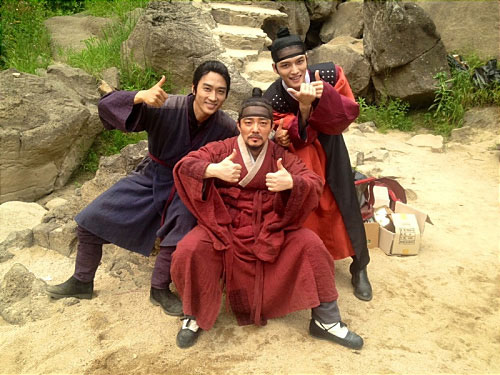 Netizens commented, "The look of brother Bum Soo is serious, too funny", "The photo warms people's hearts", "Look forward to the wonderful acting of the three musketeers" and so on.