Your Rating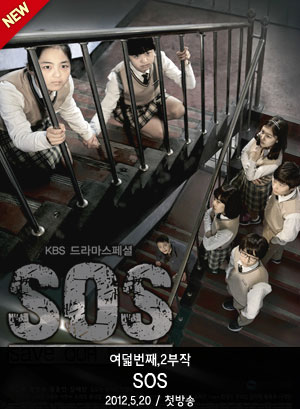 Drama Title: SOS – Save Our School
Korean Title: 드라마 스페셜 SOS – Save Our School
Romanization: Deurama Seupesyeol – SOS – Save our School
Chinese Name: SOS- 拯救我們的學校
Japanese Name: SOSは – 私たちの学校を保存
Genre: Drama
Episodes: 2
Broadcast Place: South Korea
Broadcast Network: KBS2
Broadcast Period: 20 May 2012 – 27 May 2012
Language: Korean
Air time: Sunday 11:30 PM
Preceded By: The Disappearance of the Member of Parliament
Followed By:
Plot Summary / Synopsis
There is a fire in the classroom. At the time, there were two students in that burning classroom. One died and one was taken to the hospital unconscious. Some say it was suicide and some say it was murder. Detective Eun Sup is staking out while the student is dying before he gets called in on the site. He witnesses the most terrible thing there.
Cast
Jung Woong In (정웅인) as Kim Eun Sup (김은섭)
Seo Shin Ae (서신애) as Bang Si Yeon (방시연)
Jung In Seo (정인서) as Kim Cheong Na (김청나)
Kim Ae Ran (김애란) as Han Seon Sook (한선숙)
Park So Yeong (박소영) as Jang Min Seong (장민성)
Noh Tae Yub (노태엽) as Oh Ji Man (오지만)
Lee Byung Joon (이병준) as Jin Hyun Do (진현도)
Jung Jae Eun (정재은) as Jeong Mi Won (정미원)
Min Yeong Won (민영원) as Lee Yoo Jin (이유진)
Jung Ee Kap (정의갑) as Jang Gook Chun (장국천)
Na Kyung Min (나경민) as Homicide Team Leader (강력반 팀장)
Kang Ji Won (강지원) as Go Jin Joo (고진주)
Hwang Dong Joo (황동주) as Yoon Moon Suk (윤문석) – Cameo
Production Credits
Director: Kim Yeong Jo (김영조)
Screenwriter: Lee Myung Hee (이명희)
Trivia
The drama is 8th part of KBS "Drama Special" (드라마 스페셜) miniseries season 2.
Official Site
Official Photo Gallery
SOS – Save Our School Trailers
Watch online with English subtitle (not yet available).
Watch online with Chinese subtitle (not yet available).
Photo Gallery