Your Rating
The first OST (original sound track) for JTBC's drama series Fermentation Family (Kimchi Family) has been released on December 15th, 2011. The song of Fermentation Family OST part 1 has the title named Stupid Love (이깟 사랑), and is sang by Korean female singer J-Cera (제이세라).
The song title of Such a Love is also been translated as Foolish Love or Such a Love.
Stupid Love is written by Nine (나인) and is composed by Park Jung Wok (박정욱).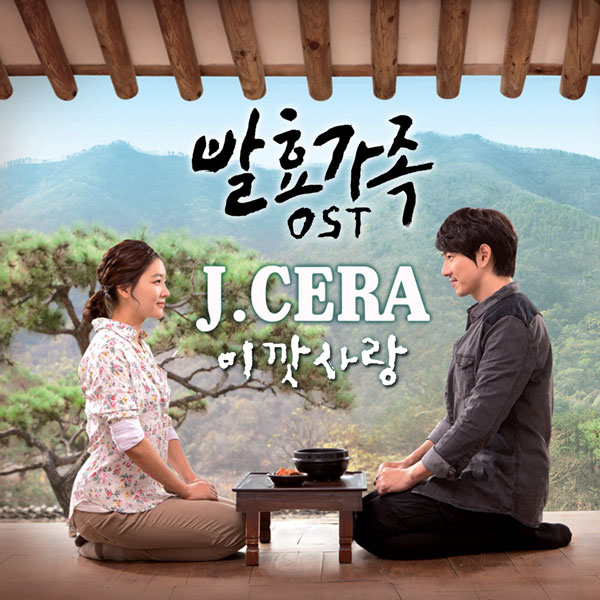 Fermentation Family (발효가족) OST Part 1 Track List
Stupid Love (이깟 사랑) – J-Cera
Stupid Love (이깟 사랑) – Instrumental
Stupid Love (이깟 사랑) Music Video (MV)
Stupid Love (이깟 사랑) Korean Lyric (with Romanization Pronunciation
이것도 지나가겠죠 전에도 그랬듯이
igeosdo jinagagessjyo jeon-edo geulaessdeus-i
그깟 사랑하나 보내는 거 별것도 아니죠
geukkas salanghana bonaeneun geo byeolgeosdo anijyo
가슴이 너무 아파도 내 심장이 조여와도
gaseum-i neomu apado nae simjang-i joyeowado
다 지나갈거야 이깟 사랑 견디면 될거야
da jinagalgeoya ikkas salang gyeondimyeon doelgeoya
너를 만나 설레이고 너의 손끝에 떨리고
neoleul manna seolleigo neoui sonkkeut-e tteolligo
시린 눈빛에 여린 뒷모습에 내 모든 걸 다 걸고
silin nunbich-e yeolin dwismoseub-e nae modeun geol da geolgo
다신 사랑 안 해 이젠 다신 사랑 안 믿어
dasin salang an hae ijen dasin salang an mid-eo
가슴이 닳고 또 닳아도 너란 이유라서 지키지도 못한 말
gaseum-i dalhgo tto dalh-ado neolan iyulaseo jikijido moshan mal
바보처럼 내 사랑은 지치지 않나봐
babocheoleom nae salang-eun jichiji anhnabwa
이렇게 못되기만 한데도 아직 너를 기다려
ileohge mosdoegiman handedo ajig neoleul gidalyeo
니 사랑은 하나라고 내가 아니면 안 된다고
ni salang-eun hanalago naega animyeon an doendago
이런 사랑은 처음이란 말에 내 사랑 다 내주고
ileon salang-eun cheoeum-ilan mal-e nae salang da naejugo
다신 사랑 안 해 이젠 다신 사랑 안 믿어
dasin salang an hae ijen dasin salang an mid-eo
가슴이 닳고 또 닳아도 너란 이유라서 지키지도 못한 말
gaseum-i dalhgo tto dalh-ado neolan iyulaseo jikijido moshan mal
바보처럼 내 사랑은 지치지 않나 봐
babocheoleom nae salang-eun jichiji anhna bwa
이렇게 못되기만 한데도 아직 너를 기다려
ileohge mosdoegiman handedo ajig neoleul gidalyeo
조금만 참아보자 한번만 더 삼키자
jogeumman cham-aboja hanbeonman deo samkija
이깟 사랑 하나 잊어주는 게 뭐가 그리 어렵다고
ikkas salang hana ij-eojuneun ge mwoga geuli eolyeobdago
이것도 지나갈거야 전에도 그랬으니
igeosdo jinagalgeoya jeon-edo geulaess-euni
이런 내가 싫어 날 속이는 사랑도 싫어
ileon naega silh-eo nal sog-ineun salangdo silh-eo
너라서 웃었던 순간들 이젠 잔인하게 날 울리고 가는데
neolaseo us-eossdeon sungandeul ijen jan-inhage nal ulligo ganeunde
바보처럼 내 사랑은 지치지 않나봐
babocheoleom nae salang-eun jichiji anhnabwa
이렇게 나쁘기만 한데도 아직 너를 기다려
ileohge nappeugiman handedo ajig neoleul gidalyeo
Stupid Love (이깟 사랑) Lyric English Translation
This will pass too as it always did in the past
Sending off a trifling love is not a big deal
My heart pains so much, my heart chokes
It'll pass, I just need to endure this stupid love
My heart thrills when meeting you, I tremble at the touch of your hands
Looking at your back tenderly, I risk everything
I will not love again, I will not believe in love again
Although my heart wears out, because of you, I say words I couldn't even abide by
Like a fool, my love doesn't feel tired
Turn out I can only do so, simply wait for you
You say your love is only one, and you can't love if it's not me
This kind of love was a first, and I gave all my love to you
I will not love again, I will not believe in love again
Although my heart wears out, because of you, I say words I couldn't even abide by
Like a fool, my love doesn't feel tired
Turn out I can only do so, simply wait for you
Let's endure it a bit more, let's push it down once more
What's so hard about forgetting a foolish love
Now that I did it before, this will pass too
I hate myself for being like this, I hate love that deceives me
The moment that I smiled because of you, are now cruelly making me cry
Like a fool, my love doesn't feel tired
It's so bad but I still wait for you