The still of body of Yoo Ah In who is starring in SBS' Fashion King exposed, revealing his masculine charming solid body.
The still photo of the scene where Yoo Ah In was filming a scene for Fashion King by doing push-ups at SBS studio in Ilsan on late March 2012 was published. In the photo, although Yoo Ah In is distressed but seems to immerse into something, showing strong eyes and solid muscles.
After the end of shooting, the producer was very satisfied, saying, "The scene of push-ups, is the exclusive expression shown by Yoo Ah In as Young Gul is beleaguered with worry and betrayal. Yoo Ah In has an unique appeal that attracts attention."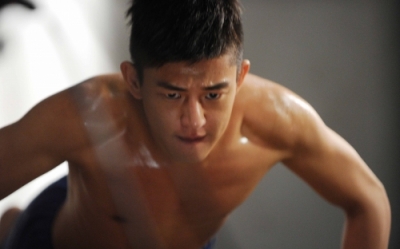 In addition, through the preview of Fashion King, it's known that the next 3 episodes of Fashion King will stage the attractive plot of life of Young Gul and Ga Young in New York, the kiss scene of Jae Ha and Anna, and Young Gul is taken away by police.