The calm perfectionist captain Ji Jin Hee and reckless lively co-pilot Ku Hye Sun in SBS drama series Take Care of Us, Captain are been made into comics, becoming a hot topic.
The serial comic strip by Internet comic writer ejjang is based on rich imagination and unique creativity, and is a imitation comedic comic that tries as far as possible in maintaining the characteristics of roles in Take Care of Us, Captain. The born of the role of Gwiyomi (cute) is well received by netizens.
Kim Yoon Sung (Ji Jin Hee) who is been called Uncle Penguin in the drama, is putting on the real penguin clothes, while Han Da Jin (Ku Hye Sun) is wearing her wig in Boys Over Flowers and others, showing the cute and witty thta cannot be seen in drama, and such favored by many netizens.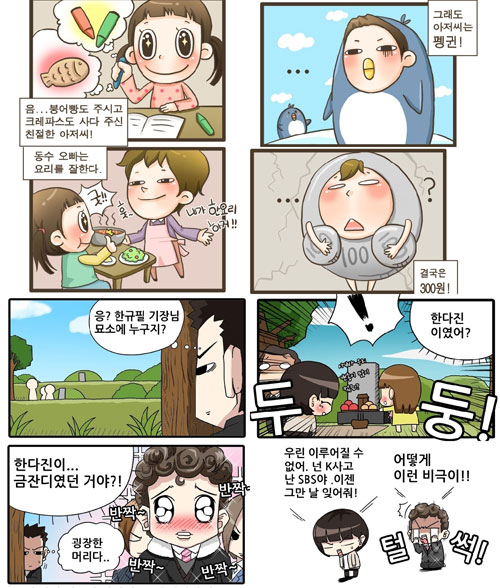 The website of ejjang is at http://www.ejjang.net/.
via Kyeongin