Now, the nights of wiping the tears of pure love ended. Although the audience ratings of The Moon Embracing the Sun was born through the fighting for TV remote control by mother, father, son and daughter gathering together, but now it ended peacefully.KBS' Man From the Equator, MBC's The King 2 Hearts and SBS' Rooftop Prince, the all new Wednesday and Thursday drama of 3 TV stations will debut on the night of March 21st, 2012. With the change of formation, even if using shortcut at all costs, but standing at the same starting line, it would be nice if they could be evaluated through wholly through strength, which can also be sens as expression of willpower. Rooftop Prince where Park Yoochun travels through time to be only one wearing glaring hanbok in modern times, Man From the Equator which reveals nakedly the heavy human nature and decides the outcome through fastball, and The King 2 Hearts that depicts romance of 'south man north girl' in fictional constitutional monarchy. In the pleasant spring breeze which allows frequent outing, who will be the ultimate winner that attracts audience to stay in house? On the eve of the war between three Wednesday and Thursday drama, 10 Asia analyzes the tactic, strategy, and faces of the warriors of three TV drama series.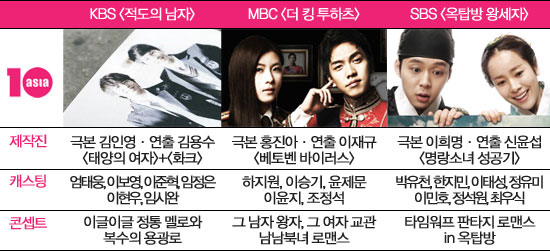 KBS The Equator Man
Crew: Screenwriter Kim In Young (Woman in the Sun; Director Kim Yong Soo (White Christmas)
Cast: Uhm Tae Woong, Lee Bo Young, Lee Jun Hyuk, Lim Jung Eun, Lee Hyun Woo, Lim Siwan
Concept: Intense traditional revenge romance
MBC The King 2 Hearts
Crew: Screenwriter Hong Jin Ah; Director Lee Jae Kyu (Beethoven Virus)
Cast: Ha Ji Won, Lee Seung Gi, Lee Soon Jae, Lee Yoon Ji, Jo Jung Suk
Concept: The prince, the female instructor, romance of Southern men and Northern woman
SBS Rooftop Prince
Crew: Scriptwriter Lee Hee Myung; Director Shin Yoon Sub (Successful Story of Bright Girl)
Cast: Park Yoochun, Han Ji Min, Lee Tae Sung, Jung Yoo Mi, Lee Min Ho, Jung Suk Won, Choi Woo Shik
Concept: Time traveling fantasy, romance in rooftop apartment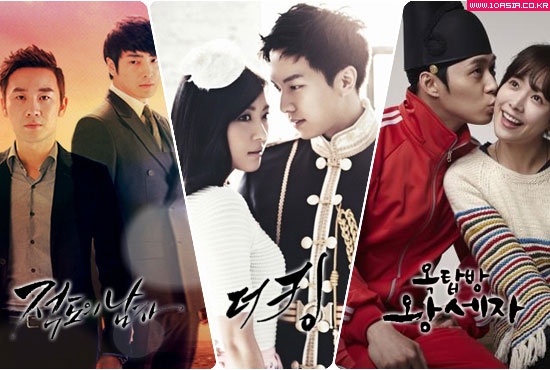 1. Story
Man From the Equator – Intense traditional revenge romance
The guy with the strongest fist (Kim Sun Woo by Eom Tae Woong) and the smartest guy (Lee Jae Il by Lim Si Wan) become friend. Originally can rely on each other, persisting in the lonely life that is suffocating. But after the day Sun Woo's father disguised as committing suicide, two persons can no longer be called friend. In order to avenge his father, in order to protect the secret of father, the growing desire, making the story of men during the most passionate time in life.
The King 2 Hearts – The prince, the female instructor, romance of Southern men and Northern woman
The South Korean prince and North Korean Special Forces instructor under the Korean constitutional monarchy. With the proposal by brother king and instruction from the party, South Korean prince Lee Jae Ha (Lee Seung Ki) and North Korean instructor Kim Yang Ah (Ha Ji Won) participate in World Officers Championship. Although they will quarrel everything they meet, but they who have to marry due to the righteous cause of reunification, is beginning to feel each other's goodwill. But they have to confront the president of complex military holding company Club M which is the greatest threat to peaceful unification of South and North, Kim Bong Goo (Yoon Je Moon).
Rooftop Price – Time traveling fantasy, romance in rooftop apartment
The reason for the death of crown princess for crown prince (Park Yoo Chun)during the Joseon Dynasty is complex, in order to find out the truth and in the tit for tat with opposing force, he traverses through time with 3 confidants to a rooftop apartment in Seoul 300 years in future. There, he meets Park Ha (Han Ji Min) who drives a truck weight 1 ton shuttling in the market for living. In this process, he meets Hong Se Na (Jung Yoo Mi) who looks exactly the same with the dead crown princess, and gets to know the existence of Yong Tae Yong, the successor for Home & Shopping which looks exactly identical with him.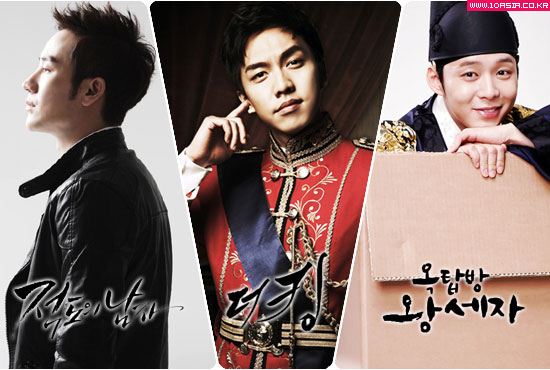 2. Male lead character
The Equator Man – Kim Sun Woo, the embodiment of revenge returning from hell
A troublemaker who is born naughty and uses only fists. Such a Sun Woo has his own dream after meeting academic excelled friend Lee Jang Il. But because of intricate questions of his father's death, exposing him near the threshold of death, and even loses his vision. At the last moment, he finds a man who claims to be his biological father, allowing him recovers his vision, but his father is in hell. So in order to avenge, he returns to Korea after 13 years.
The King 2 Hearts – Lee Jae Ha, abolished crown prince of Republic of Korea
Annoying, person who makes people feels very annoying even by just thinking. Only know to eat, drink and play, lives a comfortable life, the crown prince of Republic of Korea, Lee Jae Ha, claims to be a genius IQ of 187, apart from his thick skin. But he self-claimed, "The model of 21st century royal family." He said according to analysis, the position of younger brother of the king is more comfortable when comparing with the position of the king. So such an IQ seems to be extremely wrong. Lee Jae Ha who honed in ability to handle reality and calmness confronts "international relation" Kim Bong Goo who wants to abolish the prince title and treats money as life.
Rooftop Prince's Lee Gak – Crown prince who has zero sense of reality
Lee Gak is a prince with rigorous charm. But after falling into 21st century Seoul, because of influence of an unfamiliar environment, not to mention dignity, he has difficulty even to maintain his finance. Riding on the truck of Park Ha, trembling and shivering because of fear. Is chased away because of creating disturbance in Gyeongbokgung Palace. Because of blackmailing for free food at convenience store, he is reported to police. Summarized in one sentence is that he is a figure with zero sense of reality. But in the process of going on rampage and disturbed in the world, his cold and dim character due to losing of crown princess also gradually changed by the humane face of Park Ha (Han Ji Min).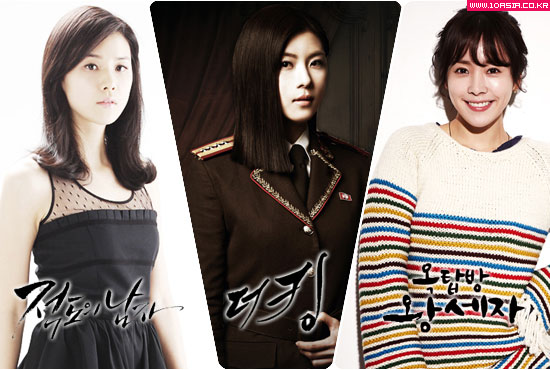 3. Female lead character
Man From the Equator – Han Ji Won, just once the love for a person
Although grew up in the enviable family, but the failure of the father's business. The teenage parent, Ji Won (Lee Bo Young), is cheerful without sadness, and a person who overcomes difficulties with perseverance. When in university, temporarily become attached to Jang Il. Together with Sun Woo whom she knew when reading textbooks for visually disabled persons, the fate of these three persons intertwined. She sacrifices for the life of Sun Woo, but he leaves for her sake, she cannot forget.
The King 2 Hearts – Kim Yang Ah North Korean instructor
"I know I look like a beautiful peony-like Korean women." The woman who is full of spoiled tone is North Korea's legendary instructor Kim Yang Ah. After the words of "Marriage is responsible by the party," she held a "trying" mentality to participate in World Officers Championship. Her nonsense, innocent and simplicity all hidden under the military uniform. Yang Ah who knows better than anyone else about assassination and explosion does not know the word "love." The worry that nobody would marry him after working hard is no different from ordinary woman's point of view.
Rooftop Prince – Park Ha, pungent and lively merchants
Innate destiny. Orphaned since childhood after her father remarried, was adopted to United States of America, but lives a lonely life again after adopted mother remarried, but lives more lively and stronger than anyone else, the ability to make a living is also very strong. Working in a restaurant in New York to earn money. After returning to Korea, she is a excellent merchant who delivers fresh food materials to restaurant. Except that even if she looks strong, but can cry alone.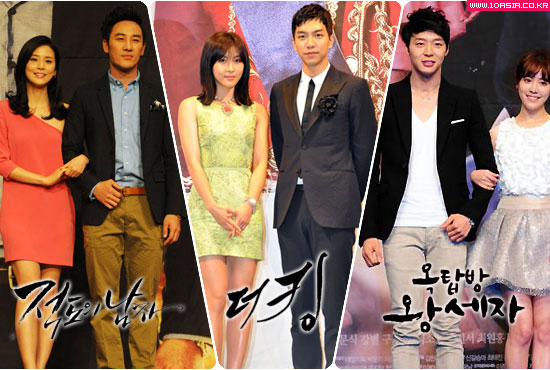 4. Synchronous progress of actors and the roles
Man From the Equator – Resurrection of threatening
Although many people remembers the role of Uhm Tae Woong in Resurrection, but his image of 'threatening' in Resurrection resurrects in Man From the Equator. A person full of desire forced to go through a lot of things. Own will is swept away without reason. From this point of view, it's different from the story of Resurrection, but it feels similar, as what Uhm Tae Woong said. The innocent face with the shadow of the cruel fate, is really good match.
The King 2 Hearts – Novel of mothers and things of the past
It's gratifying that the roles of Lee Seung Gi and Ha Ji Won progressed simultaneously. Special Forces instructor Kim Yang Ah does not use body double to complete difficult moves and competitions. To Ha Ji-won, Lee Jae Ha also looks like very modest royal family. "If it's not Lee Seung Gi who plays the role of Lee Jae Ha whom may be hated by audience if careless, then who can perform it," asked PD Lee Jae Kyu. It can be said it's a chance for the king Lee Seung Gi and crescent-like woman Han Ji Won to confirm their strength.
Rooftop Prince – Tailored made historical idol drama
Lee Sun Joon pf KBS' Sungkyunkwan Scandal is no stranger, Park Yoochun as crown prince Lee Gak does not seem awkward. In particular, it's good match for him to wear imperial robe and hat. There is regret that historical drama only accounted for 30 to 40 percent of entire series. But what's more important than the outfit is "a person plays two roles" and perfectly portrays. The age of crown prince Lee Gak who comes back and forth between historical and modern drama and Yong Tae Yoon who is second generation heir of chaebol is similar, so whether Park Yoochun can perform the roles distinctively becomes another attraction.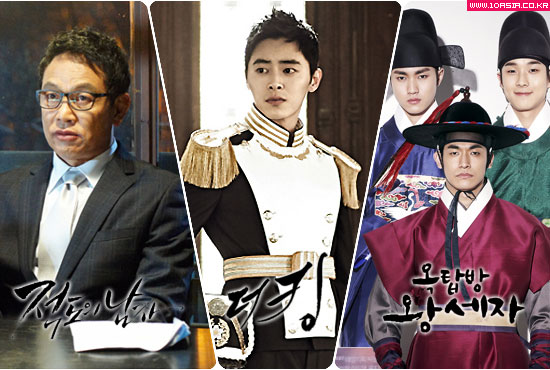 5. Persons worth paying attention to
Man From the Equator – Kim Young Chul the desire face of our era
The mountain valley that seemingly deep, strong, is devious and strong in order to maintain momentum to revenge multiple targets. In that sense, Kim Young Chul is laying the character of archenemy of Sun Woo who killed Sun Woo's father, and chief culprit for the sad fate of Jang Il. Smart enough to be president of the group was successful, but always suffer inferiority and loneliness. Kim Young Chul said, "A experienced abyss character who chases the desire intensely and falls in a cycle of despair," adding to the weight in drama.
The King 2 Hearts – Jo Jung Suk the officer with two faces
Musical idol Jo Jung Suk. Playing the role of elite lieutenant who graduated from army school, and does his tasks silently. The amplitude of emotions hidden behind the sobering face of Jo Jung Sung inevitably is the reason for his playfulness. His appeal has been proven in MBN's What's Up and movie Architecture 101.
Rooftop Prince – The handsome trio
The flower confidant trio who always together with crown prince Lee Gak is receiving much attention. Although is Korea highest swordsman, Woo Yong Sul (Jung Suk Won) who is a food in front of love, edgy genius Song Man Bo (Lee Min Ho), and Do Chi San who is expert in worldly wisdom and the cause of fun. Lee Min Ho even said that it's possible to laugh even by just looking at the face, sometimes have to look at the ground in order to act well. Although they're flower boys, but give a warm visual effect.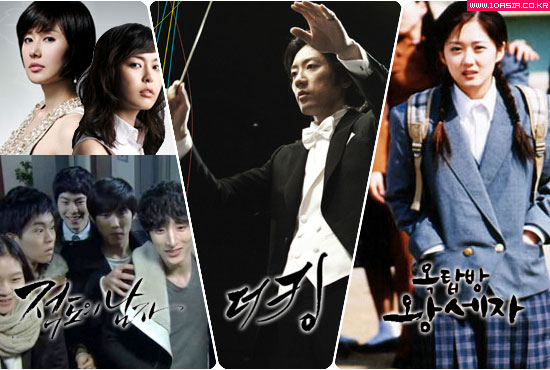 6. Production Team
Man From the Equator – Woman in the Sun + White Christmas
The screenwriter Kim In Young of Woman of the Sun which exposed the explicit as per title is back with Man Form the Equator. The keyword "desire" runs through two series. The Woman in the Sun revealed hot desire, making people shivered. Director Kim Yong Soo has directed White Christmas. "Basically, our life bound to have desire to overcome, but most people cannot survive, so it's sad desire." What's the image for the 'self portrait of sad desire' as described by producer?
The King 2 Hearts – Beethoven's Virus
The director Lee Jae Kyu and screenplay writer Hong Jin Ah who recreated Kang Mae in Beethoven Virus, a musical TV series. "How people who grew up in a totally different background going to meet," said director Lee Jae Kyu. The core of The King 2 Hearts is just like skillful captain, especially in the hand of 'Beethoven Virus,' the foundation is laid. "Comedy or melodrama is uncertain," according to director Lee Jae Kyu. The balanced drama is expected to sail smoothly.
Rooftop Prince – Successful Story of Bright Girl
Although the focus is on the crown prince who travels through time and space, but the basis of Rooftop Prince is still the love story of lead male and female characters who live actively in difficult environment. In spite of this, it's a drama worth looking forward to. Just like 2002 SBS' Successful Story of Bright Girl, the strength of screenwriter Lee Hee Myung is to build the obvious funny characteristics of the role and classic representative of overcoming difficulties. This is a 'drama with distinctive taste of the characters.' Director Shin Yoon Sub is also one of the reason why the drama is dependable.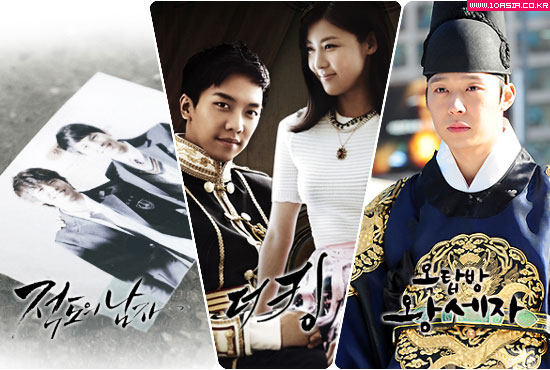 7. Matters Needing Attention
The Equator Man – Maintaining proper temperature
"It's hard in a small extent to make a drama is universally praised." Lee Won Jong pointed out that similar to traditional romantic drama, Man From the Equator may be seen as a burden due to too heavy story with slightest mistake. Everybody has a inner desire, that's human nature, the secret, betrayal, revenge and complex plot mixed together at the same time having to deal with the crisis. Because of too intense so may be want to escape, thus maintaining a proper temperature is very important.
The King 2 Hearts – Become three thousand miles captive with slightest mistake
The King 2 Hearts tells the romantic story under the setting of constitutional, North-South relationship and current situation of weapons industry. Such a clear role settings let people reminiscent of the past well-known works. Background is MBC's Goong, Kim Yang Ah is Gil Ra Im of SBS' Secret Garden, Lee Jae Ha is Sun Woo Hwan of SBS' Brilliant Legacy. The decadent paradigm depicted in the world view movie Shiri may be included. If losing focus, may be it can't describe anything probably.
Rooftop Prince – Overlap of Sungkyunkwan Confucian scholar Lee Sun Joon
Although has a cold character, the role of Lee Gak whose barrier of heart collapsed because of love is similar to Lee Sun Joon who is growing because of Kim Yoon Hee (Park Min Young). In this situation, in order to avoid the shadow of Lee Sun Joon from Park Yoochun masterpiece in KBS' Sungkyunkwan Scandal, the unique personality of Lee Gak should be very clear. Park Yoochun explained the differences between two characters, "One is student while another one is crown princess," but it's not enough with just explanation.
via Asiae