The Musical had just premiered in Korea's airwaves on 2nd September 2011, and the viewer rating the Korean drama managed to achieve is relatively reasonable.
According to statistics of ratings research company AGB Nielsen, the SBS Friday drama The Musical which was shown on Friday night had the rating of 7.1% nationwide. The rating is better than the variety show that the drama replaced by 0.2%. The "Dalgona" variety show has the average viewership rating of 6.9%.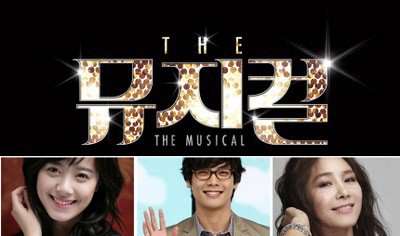 The rating for The Musical is considered reasonable, as the filming of the drama had been interrupted twice due to difficulties in script editing. Thus, it's considered to managed to withstand the pressure for a smooth start.
The drama has the viewership rating of 8.1% for Seoul region. If according to TNmS rating research agency, the rating for The Musical is even higher, where it stands at 8.3% nationwide and a double-digit rating of 10.9% in Seoul.
The two variety shows that been broadcast at the same time slot with The Musical, MBC's News Desk and KBS2's VJ Team managed to gather 10.4% and 13.3% rating respectively, topping the rating chart.