The second part of original soundtrack (OST) for KBS Monday and Tuesday TV series Poseidon is sung solo by Super Junior's Kyuhyun (조규현), lending his hand and showing his support to his team member in the Super Junior male idol group, Choi Si Won, who is the lead actor in the drama.
The Poseidon OST part 2 song title is "The Way to Break Up" (헤어지는 방법), which is also been translated as "How to Break Up," "Ways to Break Up," "Methods to Break Up," or in Chinese "分手的方法." The soundtrack was released on October 11th, 2011, though the song has actually been played in the drama prior to official release and hence leaked.
The Way to Break Up is a song created by producers Ji In and Won Taek, and is meant for couple who are going to break up. Kyuhyun's emotional voice, coupled with the melancholy feel of the song that complements harmony autumn atmosphere and lyric of rare beauty has made the song well received.
The production company Annex Telecom said, "Entire crew members are happy on Kyuhyun's participation in the OST of Poseidon. We are sure that Kyuhyun's song will help the drama in many ways."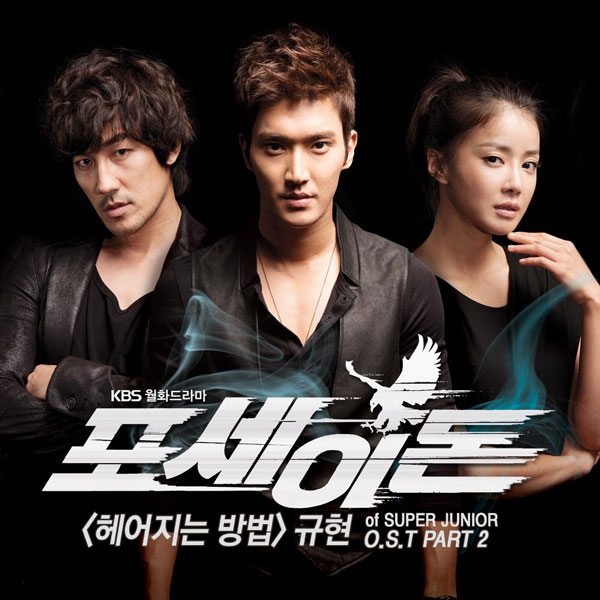 Poseidon OST Part 2 Track List
The Way to Break Up (헤어지는 방법) – Kyuhyun
The Way to Break Up (헤어지는 방법) – Instrumental
Listen to The Way to Break Up at YouTube.
The Way to Break Up (헤어지는 방법) Lyric (with Romanization Pronunciation)
아파도 아무렇지 않은 척
apado amureochi anheun cheok
눈물이 흘러도 감추는 법
nunmuri heulleodo gamchuneun beop
마음한 쪽 그곳에 남겨놓고 아무일 없다는듯이 웃는 법
maeumhan jjok geugose namgyeonoko amuil eopdaneundeusi utneun beop
헤어지는 방법
heeojineun bangbeop
마음이 이렇게 또 저물죠
maeumi ireoke tto jeomuljyo
수많은 미련들 또 허물죠
sumanheun miryeondeul tto heomuljyo
다시 지워가겠죠 아득해지겠죠 우리 서로 잊어가겠죠
dasi jiwogagetjyo adeukhaejigetjyo uri seoro ijeogagetjyo
내 의미없는 하루가 또 지나가겠죠
nae uimieomneun haruga tto jinagagetjyo
오 둘도없는 우리사랑 없던일이죠
o duldoeomneun urisarang eopdeonirijyo
보고싶다 해도 다신 볼수 없겠죠 아파도 참아야겠죠
bogosipda haedo dasin bolsu eopgetjyo apado chamayagetjyo
헤어지는 방법이죠
heeojineun bangbeobijyo
너없는 하루가 익숙하죠
neoeomneun haruga iksukhajyo
내일은 조금더 편하겠죠
naeireun jogeumdeo pyeonhagetjyo
점점 잊어가겠죠
jeomjeom ijeogagetjyo
어쩜 생각나겠죠 좋은 추억들만 남겠죠
eojjeom saenggangnagetjyo joheun chueokdeulman namgetjyo
내 의미없는 하루가 또 지나가겠죠
nae uimieomneun haruga tto jinagagetjyo
오 둘도없는 우리사랑 없던일이죠
o duldoeomneun urisarang eopdeonirijyo
보고싶다 해도 다신 볼수 없겠죠 아파도 참아야겠죠
bogosipda haedo dasin bolsu eopgetjyo apado chamayagetjyo
아파도 아무렇지 않은 척
apado amureochi anheun cheok
눈물이 흘러도 감추는 법
nunmuri heulleodo gamchuneun beop
마음한 쪽 그곳에 남겨놓고 아무일 없다는듯이 웃는 법
maeumhan jjok geugose namgyeonoko amuil eopdaneundeusi utneun beop
헤어지는 방법이죠
heeojineun bangbeobijyo
내 가득고인 눈물만이 널 기억하고
nae gadeukgoin nunmulmani neol gieokhago
또 행복했던 흔적들이 너무 많아서
tto haengbokhaetdeon heunjeokdeuri neomu manhaseo
나에게 사랑이란 너무 가슴아픈일 아파도 참아야겠죠
naege sarangiran neomu gaseumapeunil apado chamayagetjyo
그렇게 잊겠죠
geureoke itgetjyo
어쩜 생각나겠죠 좋은 추억들만 남겠죠
eojjeom saenggangnagetjyo joheun chueokdeulman namgetjyo
내 의미없는 하루가 또 지나가겠죠
nae uimieomneun haruga tto jinagagetjyo
오 둘도없는 우리사랑 없던일이죠
o duldoeomneun urisarang eopdeonirijyo
보고싶다 해도 다신 볼수 없겠죠 아파도 참아야겠죠
bogosipda haedo dasin bolsu eopgetjyo apado chamayagetjyo
아파도 아무렇지 않은 척
apado amureochi anheun cheok
눈물이 흘러도 감추는 법
nunmuri heulleodo gamchuneun beop
마음한 쪽 그곳에 남겨놓고 아무일 없다는듯이 웃는 법
maeumhan jjok geugose namgyeonoko amuil eopdaneundeusi utneun beop
잊어야하는데
ijeoyahaneunde
내 가득고인 눈물만이 널 기억하고
nae gadeukgoin nunmulmani neol gieokhago
또 행복했던 흔적들이 너무 많아서
tto haengbokhaetdeon heunjeokdeuri neomu manhaseo
나에게 사랑이란 너무 가슴아픈일 아파도 참아야겠죠
naege sarangiran neomu gaseumapeunil apado chamayagetjyo
그렇게 잊겠죠
geureoke itgetjyo
The Way to Break Up (헤어지는 방법) Lyric English Translation
Even if it hurts, pretending that it's nothing
Even if tears fall, knowing how to hide them
Placing it in one side of the heart, and knowing how to smile as if nothing is wrong
The way to break up
My heart is growing dim again
The many lingering attachments are pulling down
It will probably be erased, it will probably become faint, we will probably forget each other
My meaningless day will probably pass by
Our one of a kind love is unprecedented
Even if I say I miss you, I can't ever see you, even if it hurts, I need to endure it
This is the way to break up
I'm used to days without you now
Tomorrow will be a little more comfortable
I will forget you little by little
Sometimes, I will think of you, only good memories will remain
My meaningless day will probably pass by
Our one of a kind love is unprecedented
Even if I say I miss you, I can't ever see you, even if it hurts, I need to endure it
Even if it hurts, pretending that it's nothing
Even if tears fall, knowing how to hide them
Placing it in one side of the heart, and knowing how to smile as if nothing is wrong
This is the way to break up
Only my welled up tears remember you
And there are so many traces of happiness
To me, love is such a painful thing, even if it hurts, I need to endure it
I will probably forget like this
Sometimes, I will think of you, only good memories will remain
My meaningless day will probably pass by
Our one of a kind love is unprecedented
Even if I say I miss you, I can't ever see you, even if it hurts, I need to endure it
Even if it hurts, pretending that it's nothing
Even if tears fall, knowing how to hide them
Placing it in one side of the heart, and knowing how to smile as if nothing is wrong
I need to forget you
Only my welled up tears remember you
And there are so many traces of happiness
To me, love is such a painful thing, even if it hurts, I need to endure it
I will probably forget like this