KBS2 Monday and Tuesday drama Poseidon is triggering discussions with its leap and bound style filming that matches a large-scale movie production.
Poseidon which is starred by Choi Si-won, Lee Si-young, and Lee Sung-jae is receiving public attention by been the South Korea's first large-scale maritime television drama series, with shooting taken place in areas spanning across thousands of kilometers.
In the first episode, the place where Choi Si Won is scared till faint by back-figure beauty which is also the place he first met Lee Si Young was filmed at a beach of Donghae city in Gangwon Province, South Korea. On the other hand, the scene where Lee Sung Jae revealed his daughter was shot at Seonjeongneung of Seoul.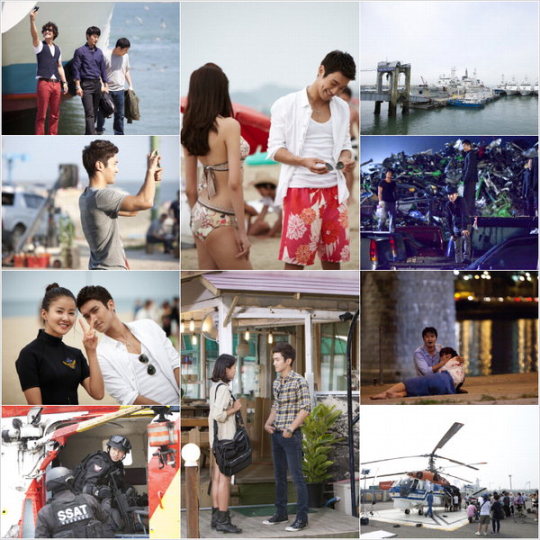 For the intense action scene where U-Know Yunho and Jang Dong-jik attempted to catch Choi Hee Gon was taken place at Inchon port, while the place went by Lee Sung Jae and Han Jung Soo in order to inquire about Choi Hye Gon is Pyeongtaek port. And, the scene where Lee Sung Jae witnessed his wife passed away was happened on an island of Han River.
As a drama with the oceanic theme, all places with the background of sea has became the shooting venues for Poseidon, as well as the main activity center of the Korea's Coast Guard – Incheon and Junshan, which was frequented by the production crews.
As a result, the production team of Poseidon has moved for more than thousands of kilometers of distance since start of filming since August.
The producer said, "In order to pursue a more vivid and realistic effects, all the staffs and actors of Poseidon are working very hard, and with the full support of Korea Coast Guard, the shooting went very well. Hope that everybody can cheer the casts and crews who does not care about physical fatigue and dedicate enthusiastically."
via iNews24