The performance of Tia Li Yu Fen (李毓芬) in Office Girls idol drama has been rated negatively by netizens. Netizens criticizes that Tia Li has overdone her "plastic surgery" (whether she actually going through the transformation is unknown), causing her to lack facial expression and acting skill, and can even walks properly. Of the three lead actresses in Office Girls, only Tia Li is receiving condemnation on PTT bulletin board (the major community board in Taiwan). But Sanlih e-TV stands behind her, expressing that will give her chance, and won't cut her share of appearance in the drama.
"Office Girls" (小資) had managed to propel to the top of most searched keywords on Yahoo! search engine, and had successfully stirred the media topic. Out of the drama, the discussion about Tia Li, Yao Yao and Alice Ke is intense, especially to goddess of "house men." Netizens scolds her as not only don't know how to act, but don't even know how to walk. "Really don't know how the production team find her." Another netizen criticizes her as very "low", very obviously have gone through massive "plastic surgery", and thus all expression is "no expression", and that she is "fake Vivian Hsu". The netizen even wants SETTV to rewrite the plot to state that she has done plastic surgery, so that her acting would be more realistic.
But SET TV is still optimistic about the potential of Tia Li, and think that she is a favorite of male audience. The SET Metro channel drama director Chen Yi Jun (陳一俊) said, "During audition, she performed very well for the lines and positioning. There is a scene in Office Girls, where she was molested by David Zhao Zheng Ping, where she shot the scene until her hand bruised. And she works even harder on the scene of crying to the mirror. After everybody watching the scene, then they should know whether she has acting skills or not."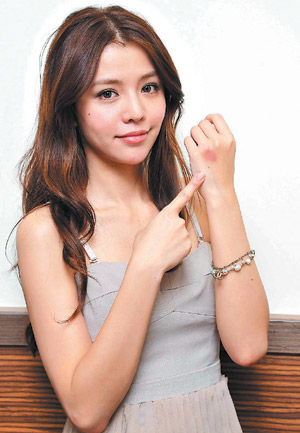 On the injury during the filming, Tia Li smiled and explained that it's because she washed her hand too strong, causing the hand to bruise.
via UDN