Dream Girls' Tia Li Yu Fen who plays the villain Zheng Kai Er in Office Girls has been criticized by netizens to have bad acting skills, and a weekly magazine have reported that after Li Yun Fen plays the role, she suffers tremendous pressure and huge drop in body weight, and on September 28th, 2011, even collapsed and cried besides team members of Dream Girls girl group, telling her grievances.
The Zheng Kai Er character played by Tia Li Yu Fen is over scheming and is scolded by netizens, even with foul words, Tia Li however explained, "I feel that everybody also their own calculation, just that where it's applied to, personally my personality is more straight, is totally different from "Zheng Kai Er," so when interpreting the role, my inner heart will have two voices, a kind of conflicted feeling." Actor in the same drama Roy Chiu put in good words for her, "She is really put up her best performance into the role, because the role is not easy to play, there is scheming involved, furthermore it's easy to be criticized, she really immerses into her role, so should instead give her encouragement."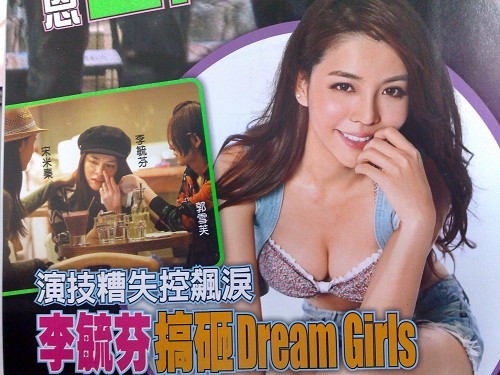 The producer of Office Girls felt wrong about acting skills of Tia Li Yu Fen been criticized, expressed that the role is set to be cold, introverted type, so the criticism of netizens is unfair to her. Lu Yu Fen had also voiced her feeling on Facebook on October 10th, 2011, "Dawn to dark, noisy to quiet, serious already, the world is so big, only you can protect yourself, Kai Er has only herself to love dearly herself." Many fans have been dismay goddess bearing so much pressure.
There is also rumor that Dream Girls, which not even established for a year, have canceled album launch due to Tia Li Yu Fen been too busy. After Dream Girls debuted, the news of disagreement between members have been continuously making headline, in addition, the gap of fame between Tia Li Yu Fen with Puff Kuo Xue Fu and Korean model Emily Song Mi Qin is too big, causing the goddess band facing the fate of breaking up. Director of Dorian agency Amanda said that three of them has their own works to busy with, the the album launch is delay to next year as the result, and rebutted the saying of dissolution of the Dream Girls.
via ChinaEyes