The most exciting love scene in "Queen Inhyun's Man" is "tiptop kiss."
Recently, the official website of tvN's "Queen Inhyun's Man" conducted an online poll about "best love scene that excited me", where among the 5 intimate love scenes of Ji Hyun Woo and Yoo In Na lover couple, i.e. earplug kiss, library kiss, car kiss, tiptoe kiss and back embrace in public telephone booth, the love scene that ranked at 1st place is tiptoe kiss, which is getting 39% of support.
Users participated in the survey said, "5 intimate love scenes have all stimulated the hearts of singles," and expressed that it's a difficult choice, but most participants have cast a vote to tiptoe kiss which displays the climax in sweetness after overcoming the 22cm difference in height.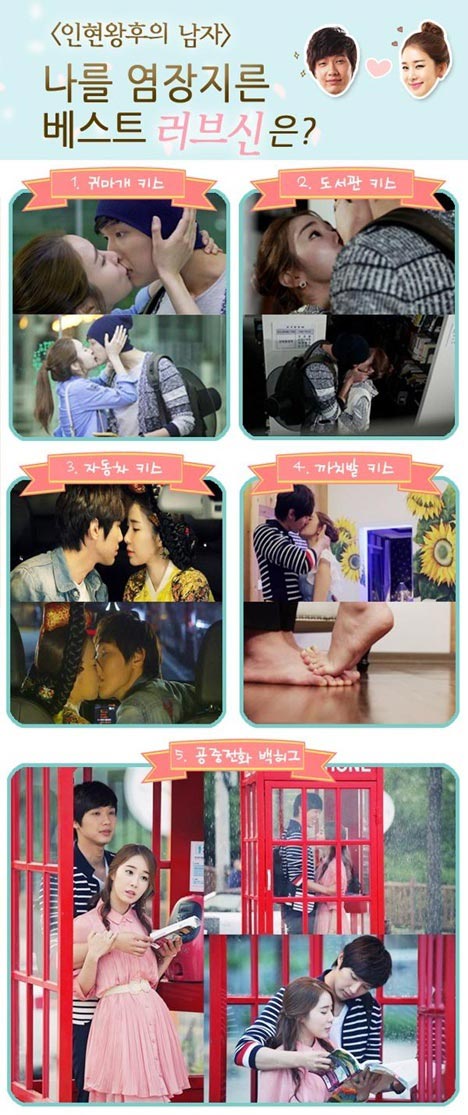 Previously, director Kim Byung Soo revealed the behind the scene story about the born of tiptoe kiss, "Actually it's scene that was born on the spot. Because it's a kiss after the feelings to each other reached the peak, so want to shoot a passionate kiss scene. Because the normal kiss is stationary, when I was troubled on how to connect the passionate look into dynamic state, I felt that it can reduce the distance between Ji Hyun Woo and Yoo In Na, and also can make the scene very romantic, so I put forward the idea to the actors on the scene."
Watch the "tiptoe kiss":
via MyDaily