Your Rating
Too Calm (太冷静 or Tai Leng Jing) is an insert OST (original soundtrack) and background music for Office Girls, though up until episode 7, only the music version of the song has been played in the drama. It's reported the complete song will feature in later episode of the drama.
"Too Calm" is one of the hit song of Quack Wu Zhong Ming (吳忠明) first personal album, Dr. Q, that was released in October 21st 2011. Quack Wu is more famously known as Big Q (大Q). The song's lyric and music was written and composed by Big Q Quack Wu himself.
Big Q first sang the "Too Calm" song on an concert, and on air wave, the "Too Calm" debuted through iRadio, both before the official release of the album.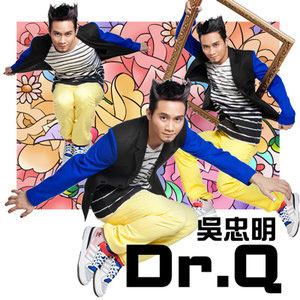 Watch Big Q Quack Wu sang the Too Calm (太冷静) live:

Big Q sang at Golden Bell Awards.
The complete song of Too Calm (太冷静) debuted on iRadio and HitFM's Hito Star Recommendation:
Watch and listen the music and song of Too Calm (太冷静) in Office Girls drama:
Listen to complete and clean CD version of Too Calm (太冷静) from the album on YouTube.
Too Calm (太冷静) Lyric
我太冷靜 是我沒有回頭的原因
甚麼結果 捨得讓你留著不說
我聽 聽見了一段感情
走到盡頭還呼吸你的氣息
好像愛沒有離去 還是默默無聲等著你
我太冷靜 是我沒有眷戀的原因
也許能夠 閉上眼看著你走
我聽 聽見了一顆真心
穿越傷痛還跳動我的記憶
好像失去了力氣 還是默默無聲等著你
可惜我沒有讓步的理由
抱歉我沒有盡力給你所有
原諒我 還虧欠你太多寬容
一點念頭 都嫌太重
可惜我沒有讓步的理由
抱歉我沒有盡力給你所有
原諒我 還虧欠你一個衝動
死心踏地保留 我的笑容
Too Calm (太冷静) Lyric English Translation
I'm too calm, because I don't have the reason to look back
What result, willing to let you keep it not saying out
I listen, heard a relationship
Come to an end still breathe your breath
Looks like love has not left, still wait for you silently
I'm too calm, because I don't have the reason for nostalgic
May be able to, shut the eyes and look at you to go away
I listen, heard a true heart
Through the pain also beating my memory
Looks like lose the strength, still wait for you silently
Unfortunately I have no reason to compromise
Sorry that I do not try to give you all
Forgive me, still owe you too much tolerance
A little idea, is too heavy
Unfortunately I have no reason to compromise
Sorry that I do not try to give you all
Forgive me, still owe you an impulse
Hardened to retain my smile