The exciting 'pit-a-pat' love line between Shin Ha Kyun and Choi Jung Won got an enthusiastic audience support.
Shin Ha Kyun and Choi Jung Won are playing the role of Lee Kang Hoon and Yoon Ji Hye in KBS 2TV Monday and Tuesday drama series Brain respectively, the 'couple at war' which getting more and more times and more and more interesting is gaining attention.
Two persons who are of senior-junior relationship in neurosurgery department of Cheonha University Hospital have a different personality. Although they often seem at odd, but deep inside their hearts have shown a deep trust, and the love is brewing. The love line of Shin Ha Kyun and Choi Jung Won is sparking, the following is the highlights of of the scenes that act just like a fuse.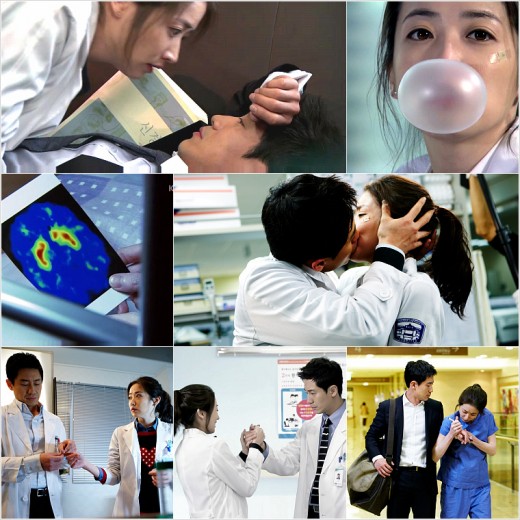 – Bold pulling on sofa incident
At the end of second episode, the 'bold pulling on sofa incident' happened between Kang Hoon and Ji Hye, and it heralded the start of the two's love line. Ji Hye stared at the Kang Hoon who were sleeping on the sofa, and her wrist was pulled, waiting for the dramatic moment. The distance of not even 10 cm, the way both of them looked at each other, viewers expressed their concern, "The best ending that excited." Afterwards, the 'Kang Hoon illness' of Ji Hye officially starts.
– Fatally charming 'bubblegum kiss'
The agressive move by honest and bold heroine Ji Hye in proposing to Kang Hoon led to the two persons culminated in an amazing atmosphere to engage bubblegum kisses. The kiss of Kang Hoon with Ji Hye whose bubblegum is all over her face shows stormy fatal charm. The confession and energetic bubblegum hot kiss of Ji Hye and Kang Hoon evoked strong reactions, and triggered "brain fever" to spawn.
– Love that loaded with bandage.
The love line of 'KangJi Couple' that climbs vertically encounters repeated orders and trials for Kang Hoon, as such it does not made great development. Besides suffering Ji Hye, Kang Hoon just cheers quietly, posing himself as reinforcement. But the short-tempered Kang Hoon also wrapped bandage to the hand of Ji Hye who hurted herself during the research, appropriately convey his heart.
– 'Sparkling' love 'brain'
After the CT scan of Ji Hye's brain is made public, they confirm that deep inside their heart it's full of happiess virus. Ji Hye who fell into love gives her heart to Kang Hoon. They take this opportunity to confirm each other's feelings. The 'love brain' of Ji Hye is flashing with green light in two persons' love line.
– The promise clearly written on the back of the hand… their first date?
The dying mother gives warm comfort to Ha Young, and Ji Hye is the fountainhead for Kang Hoon. Likewise for Kang Hoon, he feels gratitude to Ji Hye and the love which wants to deep hug her. Later, Kang Hoon charmingly proposes to Ji Hye for first dating. At the back of Kang Hoon's hand, clearly written with their first date, but the emergency situation of chaebol's chairman happened, and Kang Hoon falls into dilemma of handling the emergency and Ji Hye who is well dressed and waiting for him. To success in itself, this is the important turning point of ambitious Kang Hoon. Viewers have been very concerned of their future road ahead.
via Nate