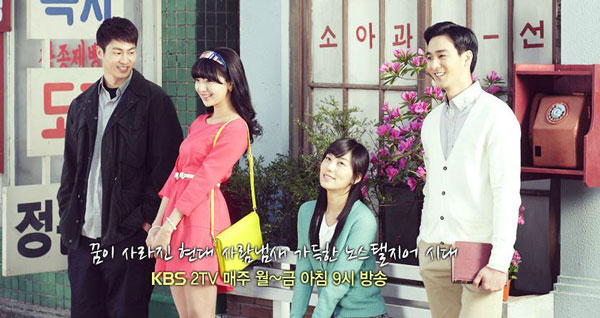 Drama Title: TV Novel: Love, My Love
Korean Title: TV소설 사랑아 사랑아
Also Known As: TV Novel: Dear Love
Romanization: Vsoseol Sarangah Sarangah
Chinese Name: 電視小說: 爱情啊爱情
Japanese Name: TV小説: 愛よ愛
Genre: Romance
Episodes:
Broadcast Place: South Korea
Broadcast network: KBS2
Broadcast period: 7 May 2012
Language: Korean
Air time: Monday to Friday 9:00 AM
Preceded By: TV Novel: Dear My Sister
Followed By:
Plot Summary / Synopsis
A love and success story of youths in early 1970s, when they were poor but full of dreams! Half-sisters, Seung-hui and Seung-ah, become twins due to the hopeless love of parents' generation. By the twist of destiny, the two fall in love with the same man and become love rivals. Story of the twin sisters, who are different in every way, fight like cats and dogs but eventually reconcile! In this human drama, joy and sorrow of the girls' family will be depicted in a way that gives you bright and warm feelings.
Cast
Hwang Sun Hee (황선희) as Hong Seung Hee (홍승희)
Song Min Jung (송민정) as Hong Seung Ah (홍승아)
Oh Chang Suk (오창석) as Park Ro Kyung (박노경)
Kim San Ho (김산호) as Kang Tae Beom (강태범)
Kim Young Ok (김영옥) as Lee Geum Nyeo (이금녀)
Sun Woo Jae Duk (선우재덕) as Hong Yoon Sik (홍윤식)
Kim Ye Ryung (김예령) as Kim Yang Ja (김양자)
Lee Il Hwa (이일화) as Choi Myung Joo (최명주)
Jung Seung Ho (정승호) as Sim Sang Chul (심상철)
Kim Gyu Chul (김규철) as Yeo Sam Choo (여삼추)
Kim Bo Mi (김보미) as Kim Mal Nyun (김말년)
Kim Hyo Won (김효원) as Lee Geum Dong (이금동)
Kwon Oh Hyun (권오현) as Kim Choon Bong (김춘봉)
Min Chae as Miss Kim
Lee Ji Eun as Bang Gob Dan
Kang Min Ah as Yeo Ui Joo
Production Credits
Director: Lee Duk Geon (이덕건)
Screenwriter: Jung Yeon Min (정연민), Son Ji Hye (손지혜)
Viewership Ratings (Ranking)
| | | | | | |
| --- | --- | --- | --- | --- | --- |
| Date | Episode | Nationwide (TNS) | Seoul (TNS) | Nationwide (AGB) | Seoul (AGB) |
| 7 May 2012 | 1 | | | | |
| 8 May 2012 | 2 | | | | |
Source: AGB Nielson and TNmS
Official Site
Official Photo Gallery
Watch online with English subtitle (not yet available).
Watch online with Chinese subtitle (not yet available).
Photo Gallery