Cable TV channel OCN's Vampire Prosecutor is receiving favorable reviews after airing its first premiere episode at 11 pm on October 2nd, 2011. Vampire Prosecutor is the South Korea's first vampire criminal investigation drama.
According to Media Research company AGB Nielson, episode 1 of Vampire Prosecutor earned a rating of 1.42% among households owning cable TV, with the rating spiked as high as 2.05%. The rating topped the list of all cable TV programs aired in the same time slot.
Vampire Prosecutor's first episode depicts a young girl in an orphanage was found dead with all her blood drained while she was waiting for her adoption, leaving two bite marks on her neck that seemingly made by a vampire, and launch an investigation into the murder. Vampire prosecutor Min Tae Yeon (played by Yeon Jung Hoon) follows on the case. He uses his special psychometric power to see the last moment of murder from victim's point of view by tasting the victim's blood, to discover the clue to the young girl's death. Eventually it turned out that a women in power murdered the young girl due to her greedy desire for youth. It was revealed that she received a transfusion right on the spot which showed terrible violation of children's rights.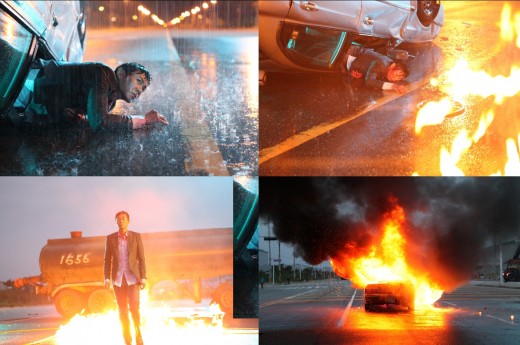 Many scenes and plots of Vampire Prosecutor have been praised by viewers, including the car chase and explosion scenes that defined Min Tae Yeon transformation into a vampire and pairing of Yeon Jung Hoon with Lee Young Ah (acting as Yoo Jung In), who are making the drama more thrilling and interesting.
Viewers commented that, "scenes from Vampire Prosecutor are great while acting skills are fantastic," "this is a new and fresh type of drama that I have never seen in Korea," "I can't wait to see the next episode," "look forward to every Sunday night from now on," "this is re-discovery of Yeon Jung Hoon, he is perfectly portrayed the best Korean vampire ever," and etc.
via TV Report