The 4th OST (original soundtrack) for tvN's second drama in Oh! Boy TV series, Shut Up Flower Boy Band, is released on March 5th, 2012. The 4th OST has the title of Wake Up.
Wake Up is sang by the singer-actor starring in the drama, Sung Joon (성준).
The song is composed and written by Lee Jae Hak, and debuts in the drama in episode 12.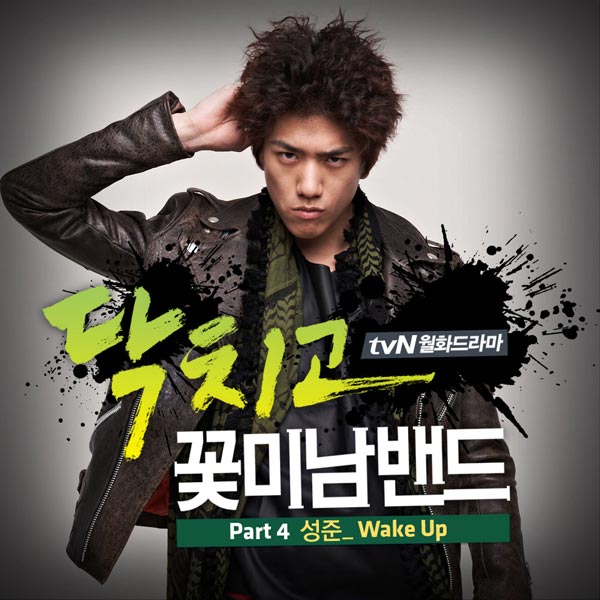 Shut Up Flower Boy Band (닥치고 꽃미남 밴드) OST Part 4 Track List
Wake Up – Sung Joon
Wake Up – Instrumental
Listen to Wake Up at YouTube.
Wake Up Lyric
지독하게 뜨거운 태양 피하지 않겠어
거친 바람속에 나를 맡긴채
Run for you I wake up
Love for you I wake up
A song for you I wake up
바로지금 Wake up
Run for you I wake up
Love for you I wake up
A song for you I wake up
바로지금 Wake up
끊어질듯 위험한 브레이크체인 이젠 필요없어
가장 빠르고 빛나게 달릴뿐
Run for you I wake up
Love for you I wake up
A song for you I wake up
바로지금 Wake up
Run for you I wake up
Love for you I wake up
A song for you I wake up
바로지금 Wake up
Wake Up Lyric Romanization
jidokha-ge tteugeoun taeyang pihaji anhkesseo
keochin baramso-ge nareul mat-gin-chae
Run for you I wake up
Love for you I wake up
A song for you I wake up
barochigeum Wake up
Run for you I wake up
Love for you I wake up
A song for you I wake up
barochigeum Wake up
kkeunheojil-deut wiiheomhan beure-ikeuche-in ijen pilyoeop-seo
kajang ppareu-go binna-ge tallilppun
Run for you I wake up
Love for you I wake up
A song for you I wake up
barochigeum Wake up
Run for you I wake up
Love for you I wake up
A song for you I wake up
barochigeum Wake up
Wake Up Lyric English Translation
Will not escape from the awfully hot sun
Entrust myself to the wild winds
Run for you I wake up
Love for you I wake up
A song for you I wake up
Wake up right now
Run for you I wake up
Love for you I wake up
A song for you I wake up
Wake up right now
I do not need the dangerous brake chain that is about to break
I am just running for the fastest glory
Run for you I wake up
Love for you I wake up
A song for you I wake up
Wake up right now
Run for you I wake up
Love for you I wake up
A song for you I wake up
Wake up right now