The viewers who are whacked to fatigue due to drama that does everything to stimulate the nerve ending are not stint of giving praise.
Not long ago, author Kim Soo Hyun who wrote the A Thousand Days' Promise (SBS, 2010) wrote a sentence on Twitter that became a topic.
She wrote, "Some people guessed that Lee Mi Sook is the biological mother of Soo Ae siblings, haha!" Then, she continued, "Now there is saying that cousin Lee Sang Woo is loving Soo Ae… it's correct that everybody likes this kind of content. But this is only pure love and care between siblings, and does not contain any hidden card. Hope you understand. People who watched A Thousand Days' Promise would knew that, the role of Lee Mi Sook is always the mother of Hyang Ki (Jung Yoo Me) who is loving Ji Hyung (Kim Rae Won) to the end. If she knows that Ji Hyung who abandoned her daughter has the lover of Seo Yeon (Soo Ae), she will surely find Seo Yeon to turn upside down.
Of course, this drama is not A Thousand Days' Promise, and the writer is not Kim Soo Hyun. In the drama with such an atmosphere, it's entirely possible the plot likes "later only know that Lee Mi Sook is the biological mother who ran away after abandoned them when young" may exist. Knowing this, Kim Soo Hyun made the "haha" response in advance.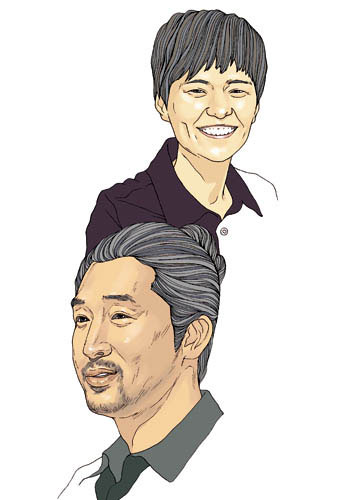 The TV series "Padam Padam… The Sound of His and Her Heartbeats" is currently airing in general programming service channel JTBC.
Firstly all aspects is luxurious. Famous author Noh Hee Kyung and PD of Iris (KBS2, 2009), Kim Kyu Tae cooperate, and the casts of Jung Woo Sung, Han Ji Min, Kim Bum are also very glorious. From the national average, the drama is getting ratings of 2%. Recently, some people has voice such a feeling, "It would be good if Padam Padam can air on terrestrial broadcaster's TV station." The business case of Padam Padam used to be sent to the office of TV series department of various free-to-air TV stations, but all of them rejected this drama, "it's not a drama that can make money" was the reason.
In fact, Padam Padam is not the kind of TV drama series that can survive on traditional Korean drama market. From the first scene, lead male character Kang Chil (Jung Woo Sung) was sent to gallows, but in the next scene, he was brought back to life. The physical sequence of the events is also not clear. Kang Chil and Gook Soo (Kim Bum) who came out of labor camp to go home for holiday, for unknown reason are back inside labor camp and chit chatting. The scenes that cannot be differentiated if it's a dream or hallucination arrived in quick succession.
However, the viewers who are whacked to fatigue due to drama that does everything to stimulate the nerve ending are praising the drama. They want to know the miracles that happen on Kang Chil, whether it's actually fantasy, or the miracle triggered Gook Soo who self-claimed to be angel. In this process, Kang Chil who spent 16 years in prison after entering it since teen, is discovering the joy of live after encountering the heroine Ji Na (Han Ji Min) gradually, causing audience to hold their breath.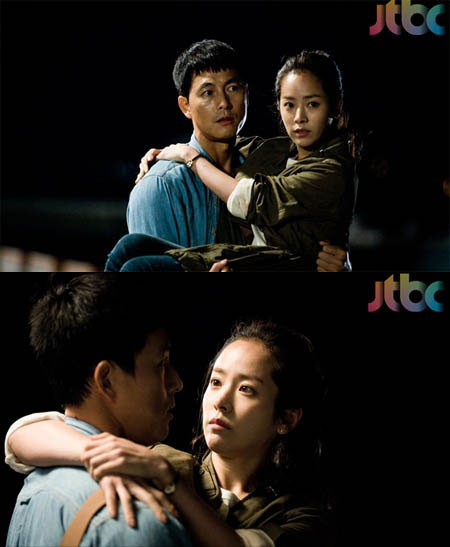 If Padam Padam is broadcast in free-to-air TV station, will it achieves high ratings?
The previous work of Noh Hee Kyung, The World That They Live In (KBS2, 2008), does not have slightest degree of lacking. The popularity of main casts, Hyun Bin and Song Hye Kyo, was not poorer than Padam Padam. For a scene about historical drama (The World that They Live In is telling the story of the live and romance of TV series PDs), in order to shoot an episode of content, a historical drama set was built, and then burnt, the monetary and materials investment was beyond the Padam Padam. But the highest ratings was just 7.7%. Will the audience who rejected The World that They Live In accepts Padam Padam? This a thing nobody would know. In this case, the current ratings of Padam Padam has great significance.
With the weaknesses of pay TV, and the dislike by some people towards general programming service channels, there is still so many viewers who gave recognition to the real value of this drama is surprising, also makes people happy. Although when asked, "do you like chemical seasoning", almost everyone will frown, but almost everyone is aware that, the restaurant that does not use MSG (gourmet powder) will have to close after a few days. In the market of TV series is also the same. Even though is a minority, there is still existance of people who remember the really delicious dishes, as well as people who understands how precious it is, is really a very fortunate thing.
via Daum