Audience who familiar with thrilling drama series also avoid to watch Can't Live with Losing?
Drama with solid plot story and excellent acting from actors is not always had good viewers rating. Other than various external factors and broadcast timing, some well made branded blockbuster drama series will also be deserted by viewers. MBC's Wednesday and Thursday drama Can't Live with Losing (Can't Lose) is a typical example. Though its rating on October 13th's episode rating of 7.8% ranked bottom among the TV series on the same time slot, but the drama has a meaning.
Can't Lose brings quiet and moving human story to audience. Rigorous structure, not only Choi Ji Woo and Yoon Sang Hyun, but the acting skills of supporting casts such as Kim Jung Tae, Jo Mi Ryung, Ju Jin-mo and Ga Deuk Hee are also impeccable, plus backbone actors of Park Won Sook and Kim Ja Ok, there is no degree of controversy on acting side. However, why Can't Lose does not have high ratings?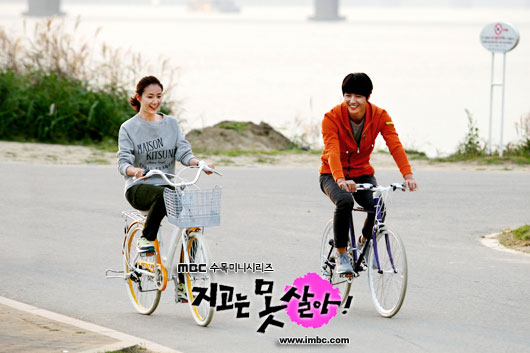 # Not following the "Aunt Cinderella" formula for high ratings drama ratings
Can't Lose is a description of the funny things happened during the process of divorce between lawyer couple, warm, and lighthearted romantic comedy. Eun Jae (Choi Ji Woo) who is still in love, but divorce for self-esteem, and Hyun Woo (Yoon Sang Hyun) separate peacefully and realistically from their marriage life. But as time goes on, the process of they provide comfort for each other's pain and care, and at the same time heal own-self is shown convincingly. In addition, as lawyer specializing in family matters, the couple also conveys the message of forgive and tolerant through the clients, and links to other moving stories.
Nevertheless, Can't Lose does not have the "Aunt Cinderella" formula that must appears in popular drama.
The wife decisively choose to divorce with problematic husband, at this time, a excellent second generation of chaebol appears before his wife for courtship, and ultimately she choose the "Prince Charming" to start the second part of her life like in a dreamland, but the Can't Lose which closes to reality refused the "Aunt Cinderella" formula.
In reality, the above story is difficult to achieve. However, it helps to contribute to the ratings upgrade, as such aunts that contributes the "superficial ratings" totally reject the drama. After rejecting the plot formula that grab the viewership ratings of family drama that mainly consists of housewives, Can't Lose dramatic reversal replace the possible change after the divorce.
# Audiences prefer thrilling conventional drama.
At the same time, the drama is different from conventional drama that has a mixture of secret of birth, incurable disease, entangled triangular relationship. In addition, it also does not have the plot of occasional reunion that must have in TV series. The regret and pain experienced during the divorce process, expressing the pity calm, resisting the "intense" performance, warming the hearts of the audience. Thus, comparing with dramatic reversal of heavy theme of divorce, but solved in the ordinary way of live, showing the real coup.
# Thing that may happen to any of us
Actually, a lot of housewives have watched the first half of the drama where Choi Ji Woo and Yoon Sang Hyun are fighting and at the same resonating that it's same story with our family. Viewers watching the look of Choi Ji Woo and Yoon Sang Hyun in the drama, and comprehend the importance of accepting the marriage partner or marriage target. A lot of viewers made their views known, "the process of divorce from the perspective of others, how could I not seeing it?" "divorce, even for one time, must think of this drama."
Although it's too late for too many viewers, but comparing with thrilling soap operas, it's worthwhile to take a notice for a warmth emotional drama.
An audience says, "TV viewers are familiar with stereotype drama are worried about how many attraction it can has for the rest of the episodes for a drama with no dramatic and no reversal. But it calmly lead a forgotten emotion, the drama cures our suffering and pain bit and bit is good enough."
Of course, the ratings of Can't Lose are not high, but audiences have gave satisfactory evaluation to the warm drama that guide the resonance and for the first time with intent plan to restore the relationship. With these response and general trend of good praises, when the drama decided to extend from the originally plan 16 episodes by 4 episodes, to 20 episodes, Can't Lose hopes to open a new chapter in the recent TV series.
via heraldm.com