The content that hints on the death breathtaking where Kim Bum is hit by bullet and bleed just as when he spreads his wings to become angel for a second time.
In episode 11 of JTBC drama series Padam Padam… The Sound of His and Her Heartbeats broadcast on January 9th, 2012, Yang Kang Chil (Jung Woo Sung)'s guardian angel Gook Soo (played by Kim Bum) makes a suggestive dream, his chest is hit by bullet at the moment he spreads his wings to fly at the seaside's breakwater, and the blood accompanied with body drops from the sky like rains.
At the time Gook Soo is troubled by this dream, he believes that his wings open is related to kissing with Hyo Suk (played by Kim Min Young), so he requests to kiss again with Hyo Suk, as the result, during the process of chasing, he suddenly bleeds from the chest and faints. The hint in the dream becomes a reality.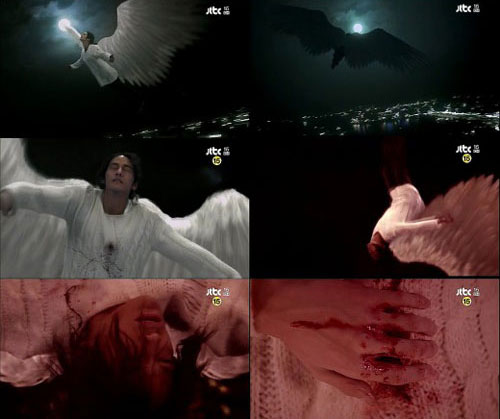 After the drama is broadcast, the responses such as "The style of angel Kim Bum transformation is very handsome," "First time seeing such a handsome angel," and others are very intense. Will Gook Soo able to save Kang Chil for the third time just as implied in his dream is raising curiosity.