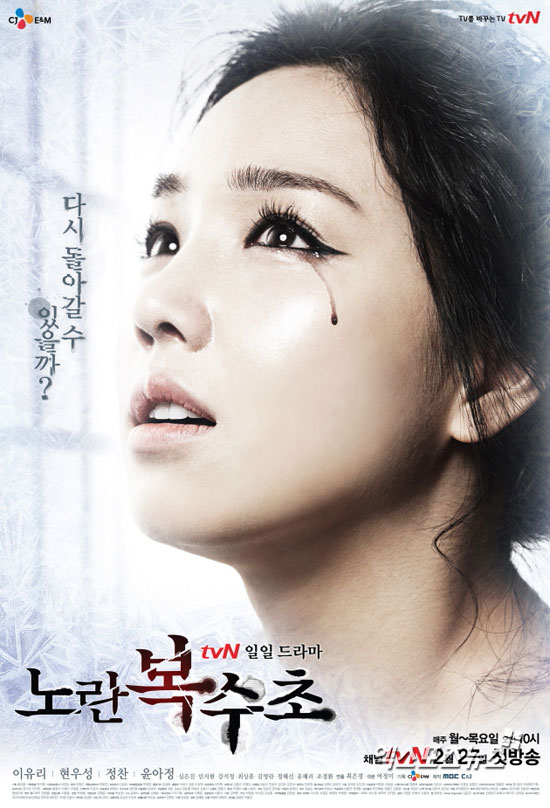 Drama Title: Yellow Boots
Korean Title: 노란 복수초
Romanization: Nolan Bogsucho
Chinese Name: 黄色复仇草
Japanese Name: 黄色い復讐草
Genre: Romance, Drama
Episodes:
Broadcast Place: South Korea
Broadcast Network: tvN
Broadcast Period: 27 February 2012
Language: Korean
Air time: Monday to Thursday 10:00am
Preceded By:
Followed By:
Plot Summary / Synopsis
The drama tells the story of a woman who used to be lively and cheerful, but has to embark on the road of revenge after been falsely accused of committing a crime and lost everything.
Cast
Lee Yoo Ri (이유리) as Seo Yeon Hwa (설연화)
Hyun Woo Sung (현우성) as Ha Yun Jae (하윤재)
Yoon Ah Jung (윤아정) as Choi Yoo Ra (최유라)
Jung Chan (정찬) as Choi Kang Wook (최강욱)
Min Ji Hyun (민지현) as Seol Soo Ae (설수애)
Shim Eun Jin (심은진) as Ha Yoon Hee (하윤희)
Kang Suk Jung (강석정) as Kim Tae Il (김태일)
Kim Young Ran (김영란) as Han Kyung Sook (한경숙)
Yoo Hye Ri (유혜리) as Jang Min Ja (장민자)
Choi Sang Hoon (최상훈) as Choi In Suk (최인석)
Jung Hye Sun (정혜선) as Lady Jo (조여사)
Jung Kyung Ho (정경호) as Park Chang Doo (박창두)
Production Credits
Director: Choi Eun Kyung (최은경)
Screenwriter: Yeo Jung Mi (여정미)
Viewership Ratings (Ranking)
| | | | | | |
| --- | --- | --- | --- | --- | --- |
| Date | Episode | Nationwide (TNS) | Seoul (TNS) | Nationwide (AGB) | Seoul (AGB) |
| 27 February 2012 | 1 | | | | |
| 28 February 2012 | 2 | | | | |
Official Site
Official Photo Gallery
Watch online with English subtitle (not yet available).
Watch online with Chinese subtitle (not yet available).
News, Interview and Behind the Scenes
Photo Gallery