Actress Yoo In Na gave a reply on the possibility to have a romance relationship with co-star Ji Hyun Woo in actual.
On the afternoon of May 7th, 2012 during the press conference of tvN Wednesday and Thursday drama "Queen In-Hyun's Man" held in a restaurant at Jangchung-dong, Seoul, Yoo In Na said, "There are infinite possibilities (to develop as actual lover with Ji Hyun Woo)."
Yoo In Na and Ji Hyun Woo staged various romantic scenes of earplug kiss, foamed hand kiss, finger interlocked kiss, library kiss and more in the drama, causing a lot of topics. In addition, the warm visual effect shown by 22cm of difference in height which has been yearned by many female, undoubtedly causing the start of 'in romance relationship gossip,' giving people the opportunity to fantasy.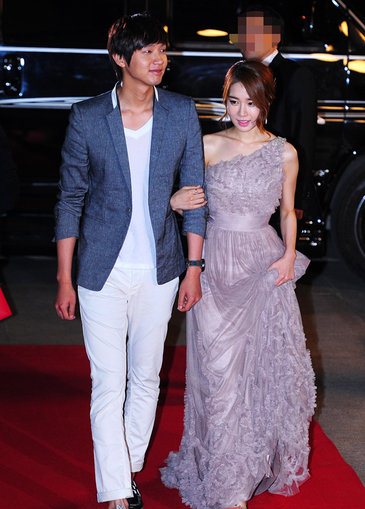 On the day, about the question on the possibility that they become a lover, although Yoo In Na embarrassingly said with a smile, "I am not sure," but Ji Hyun Woo said, "Yoo In Na has a very flexible style, I also not quite sure."
At this time, Yoo In Na said with a feeling, "There are endless possibilities. To youthful man and woman who haven't married, everybody can become a lover."
Towards the answer of Yoo In Na, Ji Hyun Woo said frankly, "I have a love dearly feeling when seeing Yoo In Na. When the schedule arrangement is less tight, Yoo In Na still have radio program to produce, so she records for about 7 to 8 hours a day, very tiring. So I have a love dearly feeling of wanting to take care of her. Because I am also hosting a radio show, so I also give some suggestion on what should be done when doing double DJ and actor."
In the drama, Ji Hyun Woo is playing the role of Hongmungwan scholar Kim Bung Do who time travels for the sake of restoring Queen In Hyun, while Yoo In Na is playing the actress Choi Hee Jin in modern times.
via Chosun