Korean actor Yoon Sang Hyun revealed his first impression of Choi Ji Woo during the "Can't Live with Losing" (also known as "Can't Lose) TV drama series press conference held at Lotte World Hotel on August 17th 2011 . Both persons is the lead cast in the "Can't Live with Losing."
"The first time I met with Choi Ji Woo, I felt a little uncomfortable." His words attracted attention. He continued, "On first meeting I can't avoid thinking of her image with Japanese nickname "Ji Woo Hime," expressing his uncomfortably when meeting for the first time the old timer who penetrated Japan's market.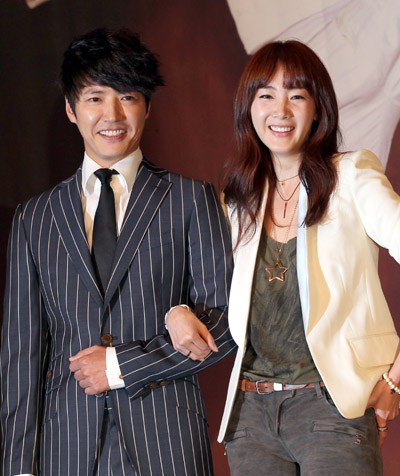 He added that "but after more contacts, I've realized that she is easygoing, joyful and humane. I really doubt how can this kind of woman can perform an appearance of innocent and pitiful. Choi Ji Woo is such a charming person." The explanation drew a laughter from the crowd. Yoon Sang Hyun has also been crossing over to Japan to develop his career, launching albums and acting in drama series, with his popularity there increasing continuously.
Replying, Choi Ji Woo expressed her feeling of satisfaction saying that "I feel good that Yoon Sang Hyun is my partner. I've being helped a lot by Yoon Sang Hyun because this is my first time to act in a romantic comedy drama. He is very understandable with my NGs. The atmosphere of filming is so good that I can act laughing immediately after the previous shooting scene that was sentimental and serious.
"Can't Lose" or "Never Lose" is a romantic comedy that depicts a series of events happening when a couple who both is lawyer seeking divorce. This is the first time Yoon Sang Hyun and Choi Ji Woo partnered to act as husband and wife. The show will be aired starting from the 24th August 2011.