KBS 2TV Korean drama Love Rain starring Jang Geun Suk and Girls' Generation member Yoona aired its third episode on April 3rd, 2012. In the episode, Yoon Hee (Yoona) hides the fact that she is suffering from tuberculosis, leaving In Ha (Jang Geun Suk) to go to United States.
After Yoon Hee getting diagnosis of TB, she completes the procedure of temporary absence from school and returns to her hometown. Inha anxiously looks for Yoon Hee who left without saying goodbye, Yoon Hee has not choice but to lie that she wants a break up. But In Ha still does not give up, hoping that she can come to the public broadcast open day.
Yoon He decides to go to United States with grandmother to seek refuge with her uncle. In order to meet In Ha, Lee Dong Wook (Kim Si Hoo) and Kim Chang Mo (Seo In Guk) for one last time, she goes to Seoul. Yoon Hee eventually heard that song of Love Rain composed by In Ha. At this time, In Ha is caught by the police hunting for Chang Mo, Yoon Hee collapses due to anxiety. In the end, In Ha enlists in the army ahead of time, Yoon Hee is admitted to hospital for treatment with the help of Dong Wook, and then goes to United States with grandmother.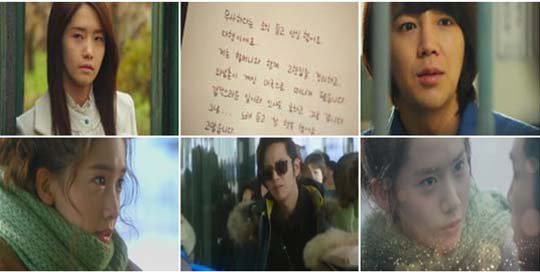 On the same day In Ha joins the army, Yoon Hee leaves letter. She wrote, "After listening to the song, I am very happy. You have always been a person worthy of my gratitude. Thank you for finding an umbrella for me during the rain, thank you for listening to me nagging about parents, thank you for having the same idea with me. I hope one day I can convey these words to you face to face." In Ha who received the letter is in despair, but still said, "She disappeared from my life, leaving behind just a parting letter, but in her letter, there is no single word of sory, so I believe that this relationship does not end."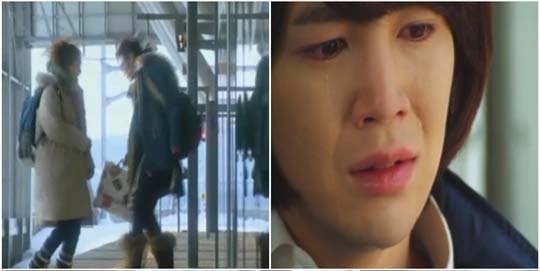 The love of In Ha and Yoon He in the 1970s is nearing the end, and how is the encounter of Seo Joon (Jang Geun Suk) and Ha Na (Yoona) in 2012 going to develop is raising the anticipation of audience.
via TVDaily