Yeon Jung Hoon and Eom Ji Won are staging sweet and passionate kiss in general programming service channel MBN weekend drama "Can Love Become Money".
In the drama, the resort business of Ma In Tak (Yun Jung Hoon) is in trouble, at the same time, the capital investment is necessary for the attracting visitors to the resort. In order to take advantage of the 20 billion South Korean won (about 17.58 million US dollar) estate, he has an arranged marriage. The personal secretary of In Tak, Da Ran (Uhm Ji Won) is shocked and surprised, and begins to carefully prepare the wedding dress for the ceremony.
But Da Ran who has knew that she has unknowingly fall in love with Ma In Tak goes to the shop of Seong Ran (Hwang Bo) to drink alone. After she is drunk, she goes to look for Ma In Tak, waking him up and said, "Don't get married." And she passed out. After waking up in the morning, In Tak asked her why she say that? Facing the question, Da Ran confessed, "Because I like president!" The heart of them to each other is revealing.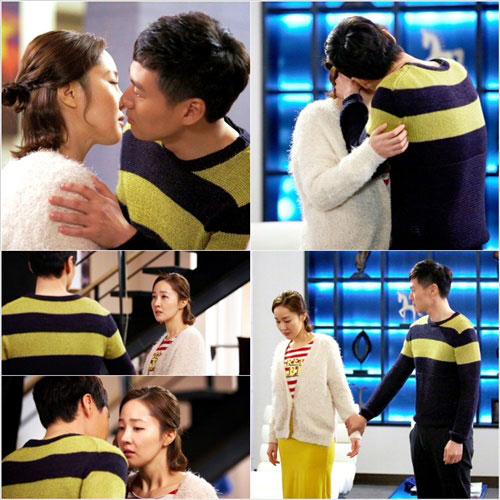 But Da Ran is panic on the kiss of In Tak, and she moves backwards. In Tak hugs her, and only then she cooperates to kiss. After the sweet light kiss, Yun Jung Hoon stages a dramatic stormy kiss scene. The passionate kiss of Yun Jung Hoon and Uhm Ji Won firmly caught the hearts of the audience.
The scene was shot in Icheon studio at Gyeonggi-do on April 18th, 2012. Yun Jung Hoon was showing a distinctive charm of a quiet gentle man. In addition, Uhm Ji Won also perfectly interpreted the sweet kiss scene, displaying the charm that is different from her usual cheerful and lively appearance in the drama.
via TVDaily