Your Rating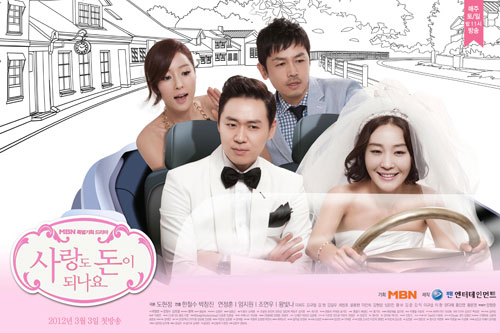 Drama Title: Can Love Become Money
Korean Title: 사랑도 돈이 되나요
Romanization: Salangdo Doni Doenayo / Sa-rang-do Don-i Doina-yo
Previously Known As: 황제를 위하여 / For the Emperor / 为了皇帝
Chinese Name: 爱情能用钱买吗 / 愛情也能成為錢 / 有钱就能有爱吗 / 爱情也可以成为金钱吗 / 爱情可以用钱买吗
Japanese Name: 愛もお金になるかしら
Genre: Romance
Episodes: 20
Broadcast Place: South Korea
Broadcast Network: MBN
Broadcast Period: 3 March 2012 – 6 May 2012
Language: Korean
Air time: Saturday and Sunday 11:00 PM (8:30 PM for two episodes of 11 & 12 at April 7 & 8)
Preceded By: What's Up
Followed By: –
Plot Summary / Synopsis
A romantic drama about what happens when young and successful CEO Ma In-tak offers to pass on a 10 billion South Korean won inheritance to his future wife.
Ma In Tak is a man who considers money as the most important in his life. He is dragged into a conspiracy due to his obsession with money, after experiencing various incidents, he eventually learns that money is not everything, and there is something more valuable than money.
Cast
Yun Jung Hoon (연정훈) as Ma In Tak (마인탁)
Uhm Ji Won (엄지원) as Yoon Da Ran (윤다란)
Wang Bit Na (왕빛나) as Hong Mi Mi (홍미미)
Jo Yeon Woo (조연우) as Kim Seon Woo (김선우)
Production Credits
Director: Han Cheol Soo (한철수)
Screenwriter: Do Hyeon Jeong (도현정)
Viewership Ratings
3 March 2012 (Episode 1): 0.525
4 March 2012 (Episode 2): 0.828
8 April 2012 (Episode 12): 0.198
6 May 2012 (Episode 20): 1.175
Source: AGB Nielson Media Research
Official Site
Official Photo Gallery
Can Love Become Money Trailers
Watch online with English subtitle (not yet available).
Watch online with Chinese subtitle via youku.com or letv.com.
Photo Gallery
News, Interview and Behind the Scene