KBS TV station has held its 2011 KBS Drama Awards on the night of December 31st, 2011, the last day of the year, not only to celebrate the arrival of new year, but also to recognize the excellency of actors, actress and dramas over the past year.
The timing of 2011 KBS Drama Awards was overlapping with 2011 SBS Drama Awards, and it's interesting to see that some actors appeared on the both two awards ceremonies.
2011 KBS Drama Awards are hosted by three MCs, namely Jun Hyun Moo, Joo Won, and Han Hye Jin, all of them except Jung Hyung Moo received some awards during the ceremony. Here's the full complete list of winners for 2011 KBS Drama Awards.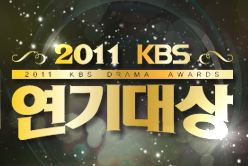 2011 KBS Drama Awards Winners List
Daesang (Grand Price): Shin Ha Kyung (Brain)
Top Excellence Award, Best Actor: Park Shi Hoo (The Princess' Man)
Top Excellence Award, Best Actor: Moon Chae Won (The Princess' Man)
Excellence Award, Long Term Drama, Actor: Lee Tae Gon (King Gwanggaetoh the Great)
Excellence Award, Long Term Drama, Actress: Kim Ja Ok (Ojakgyo Brothers)
Excellence Award, Short Term Drama, Actor: Chun Jung Myung (Glory Jane)
Excellence Award, Short Term Drama, Actress: Park Min Young (Glory Jane), Hong Soo Hyun (The Princess' Man)
Excellence Award, Miniseries, Actor: Jung Jin Young (Brain), Choi Daniel (Babyfaced Beauty)
Excellence Award, Miniseries, Actress: Jang Nara (Babyfaced Beauty)
Excellence Award, Daily Drama, Actor: Ji Chang Wook (Smile, Dong-hae)
Excellence Award, Daily Drama, Actress: Do Ji Won (Smile, Dong-hae)
Supporting Actor: Jung Woong In (Ojakgyo Brothers)
Supporting Actress: Park Jung Ah (Smile, Dong-hae), Lee Yong Ji (Dream High)
Newcomer Award, Actor: Kim Soo Hyun (Dream High), Joo Won (Ojakgyo Brothers), Lee Jang Woo (Glory Jane)
Newcomer Award, Actress: Suzy Bae (Dream High), Uee Kim Yu Jin (Ojakgyo Brothers)
Best Child Actor: Park Hee Geon (Ojakgyo Brothers)
Best Child Actress: Kim Hwan Hee (Just You)
Best Screenwriter Award: Lee Jeong Sun (Ojakgyo Brothers)
One-Act Special, Actor: Choi Soo Jong (For the Sake of Son), Lee Hee Jon (Perfect Spy)
One-Act Special, Actress: Eugene Kim Yoo Jin (Hwapyeong Princess's Weight Loss), Han Eun-Jung (Dream of Four Hundred Years)
Netizen Award: Shin Ha Kyun & Choi Jung Won (Brain)
Popularity Award:
Park Si Hoo (The Princess' Man)
Joo Won (Ojakgyo Brothers)
Moon Chae Won (The Princess' Man)
Han Hye Jin (The Thorn Birds)
Best Couple Award:
Park Si Hoo & Moon Chae Won (The Princess' Man)
Ryu Soo Young & Choi Jung Yoon (Ojakgyo Brothers)
Kim Soo Hyun & Suzy Bae (Dream High)
Lee Min Woo & Hong Soo Hyun (The Princess' Man)
Shin Ha Kyun & Choi Jung Won (Brain)