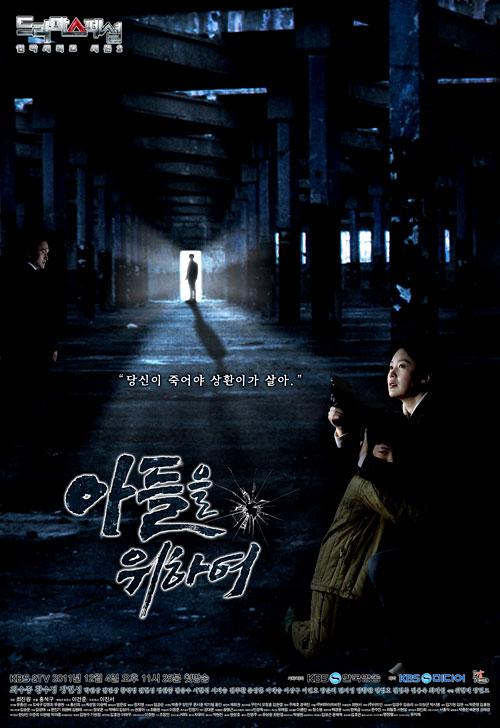 Drama Title: For the Sake of Son
Korean Title: 아들을 위하여
Revised Romanization: A-deul-eul Wi-ha-yeo
Chinese Name: 为了儿子
Genre: Drama
Language: Korean
Episodes: 4
Broadcast Place: South Korea
Broadcast Network: KBS2
Broadcast Period: 4 December 2011 – 25 December 2011
Air Time: Sunday 11:25 PM
Preceded by: My Wife Disappeared
Followed by: Amore Mio
Plot Summary / Synopsis
A 4-episode drama about a female spy (played by Hwang Soo Jeong) from North Korea with a secret mission and a crime squad detective (played by Choi Soo jang) who falls in love with her without knowing who she is.
Cast
Choi Soo-jong (최수종) as Jang Seong-ho (장성호)
Hwang Soo-jeong (황수정) as Han Ji-sook (한지숙)
Jang Hyeon-seong (장현성) as Oh Tae-soo (오태수)
Park Won-sang (박원상) as Pil-gyoo (필규)
Kim Hyun-sung (김현성) as Seok-won (석원)
Hwang Seok-jeong (황석정) as Myeong-hwa (명화)
Kim Min-sang (김민상) as Gyo-gwan (교관)
Seo Hyeon-seok (서현석) as Joon-hyeok (준혁)
Seo Ji-seung (서지승) as Hye-rim (혜림)
Jeong Won-joong (정원중) as Captain (반장)
Kim Eung-soo (김응수) as Conductor (차장)
Wi Hyeon-tae (위현태) as Sang-hwan (상환)
Production Credits
Director: Hong Seok-goo (홍석구)
Screenwriter: Choi Jin-won (최진원)
Trivia
The drama is 1st part of KBS "Drama Special" miniseries season 2.
Watch online with English or Chinese subtitle (not yet available).
Photo Gallery