The gorgeous duel between "A Gentleman's Dignity" and "Dr. JIN" have started. The first round was won by "A Gentleman's Dignity".
According to statistics released by AGB Nielson Media Research agency on the morning of May 27th, 2012, the viewership ratings for SBS's "A Gentleman's Dignity" premiere episode 1 aired on May 26th, 2012 was 14.1%, wining by a narrow margin on 2% over MBC's "Dr. Jin". KBS2's talk show "Do Dream" aired on the same time slot rated 5.6%.
"A Gentleman's Dignity" as the comeback drama of Jang Dong Gun has been attracting everyone's attention, coupled with the casting of skillful actors of Kim Min Jong, Kim Soo Ro and Lee Jong Hyuk, indicating that the drama will be a hit. While the new partnering between Kim Ha Neul and Jang Dong Gun also raised the expectation. The cooperation between screenwriter Kim Eun Suk who has been very appealing to viewers and director Shin Woo-Cheol also become a major topic.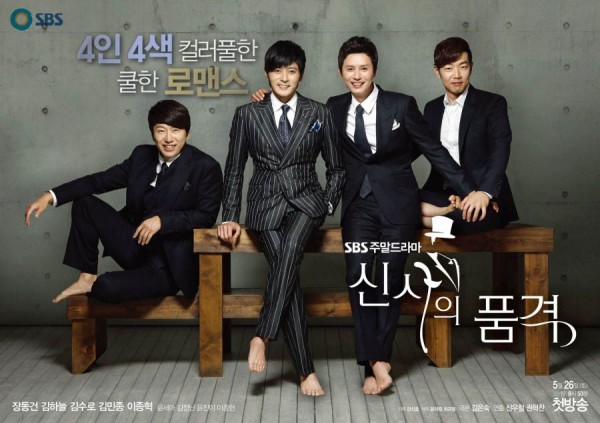 "Dr. JIN" is a medical drama with time-traveling theme. Song Seung Heon who has long absent finally returns to the small screen, coupled with the casting of JYJ's Kim Jaejoong, Lee Bum Soo and Park Min Young, the drama which included many Hallyu stars also highly anticipated.