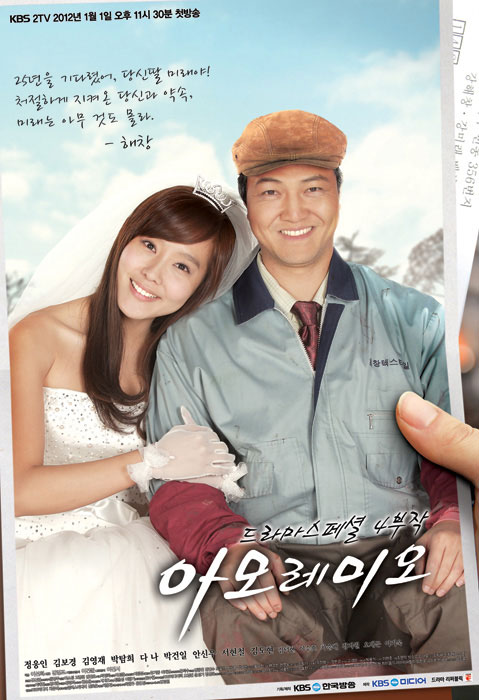 Drama Title: Amore Mio
Korean Title: 아모레미오
Revised Romanization: A-mo-re-mi-o
Also Known As: My Love
Chinese Name: 我的愛人
Japanese Name: 私は愛する
Genre: Mystery
Language: Korean
Episodes: 4
Broadcast Place: South Korea
Broadcast Network: KBS2
Broadcast Period: 1 January 2012 – 29 January 2012
Air Time: Sunday 11:25 PM
Preceded by: For the Sake of Son
Followed by:
Plot Summary / Synopsis
A mystery drama about Mi Rae, who is about to get married, tracking down her father Hae Chang's past he's been hiding when she learns about a small piece of clue.
Cast
Dana (다나) as Mi Rae (미래)
Jung Woong In (정웅인) as Kang Hae Chang (강해창)
Park Gun Il (박건일) as Lee Jin Gook (이진국)
Kim Bo Kyung (김보경) as Han Soo Yeong (한수영)
Kim Young Jae (김영재) as Seo Min Woo (서민우)
Park Tam Hee (박탐희) as Yoon Do Soon (윤도순)
Kim Do Hyun (김도현) as Kim Yeong Sik (김영식)
Ahn Sin Woo (안신우) as Choi Jeong Man (최정만)
Production Credits
Director: Kim Young Joo (김영조)
Screenwriter: Lee Seon Hee (이선희)
Trivia
The drama is 2nd part of KBS "Drama Special" (드라마 스페셜) miniseries season 2.
Watch online with English or Chinese subtitle (not yet available).
News, Interview and Behind the Scene
Photo Gallery