KBS romantic romance drama Love Rain released a new set of stills for Jang Geun Suk and Yoona couple on April 16th, 2012. Jang Geun Suk who plays the role of bad gy always attract Yoona with 'vicious tongue' who has favorable impression of him. In this set of stills, he even provoke Yoona to nurse a grievance and cry, attracting the great interest from netizens toward the plot.
In the beginning part of the "Love Rain," the drama accounted for the sad yet beautiful love story of previous generation in 1970s. And from episode 5, the drama official enters the plot at modern times. Unlike the criticism of 'slow rhythm' story of 1970s, the plot in present times won a lot of support from youth viewers. Seo Joon (Jang Geun Suk) who is a playboy not believe in love, has the seed of love budding in the accidental quarrel with Yoona, but always naively appears at her side to stir her unhappiness.
The photos released by the crews on April 16th, 2012 are the scene Jang Geun Suk made Yoona cry. The scene happens when Jang Geun Suk goes to the botanical garden Yoona is working at to argue with her, and attacks her viciously.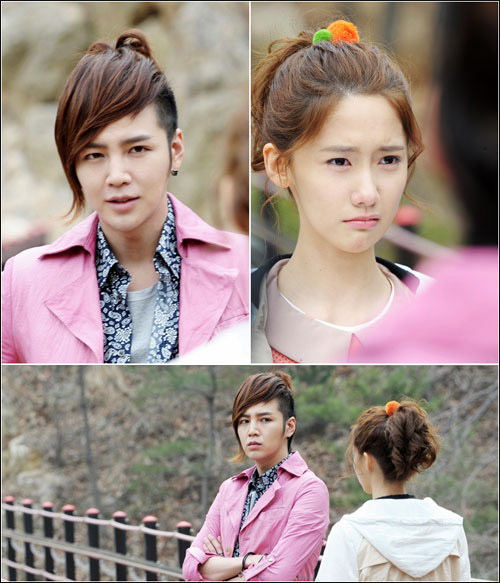 After the photos were released, netizens expressed their interest in the development of the two persons, and commented, "The eyes of Jang Geun Suk are strong, really a bad guy, the role he played very well", "The nitpick Jang Geun Suk and firm Yoona can quell each other, very interesting, looking forward to the development" and so on.
The scene is broadcast on episode 7 broadcast on April 16th, 2012.