The battle for the throne of top Monday and Tuesday drama among South Korea's free-to-air (FTA) TV channels intensified.
If the SBS's A Thousand Days' Promise which has retained the position of top ratings for Monday and Tuesday drama is considered as the defensive side, then KBS 2TV's Brain which breaks its own ratings record at an alarming rate with every new episode is no doubt the offensive side.
Both the two dramas that broadcast on December 13th, 2011, have made gratifying progress. According to data of AGB Nielson media research agency on December 14th, 2011, the rating of Brain broadcast on the 13th was 13.1%, an increase of 0.5% over last episode, making a new high again.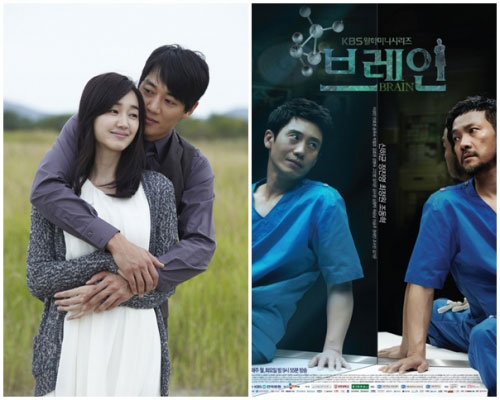 A Thousand Days' Promise is indeed the reigning champion, the rating of 16.9% rose 1.6% over last episode.
In the Brain episode of the day, Lee Kang Hoon (played by Shin Ha Kyun) goes to find professor Kim Sang Chul (played by Jeong Jin Yeong), kneeling down on the ground to beg him to save his mother (played by Song Ok Sook).
In A Thousand Days' Promise, the sickness of Soo Ae is getting worse, and she hurls a lot of harsh words to her ex-colleagues. Soo Ae who is about to give birth let everyone looks forward to her.
The two drama series that getting more and more exciting, which one will attract the vision of viewers in future? Can Brain overtakes A Thousand Days' Promise to crown the throne of Monday and Tuesday drama series and triggers the change of pattern? We'll see.
In addition, MBC's Lights and Shadows broadcast at the same time rated 10.1%.