Most TV drama series with the theme of law or court has been on the losing end in term of viewership rating. "The Lawyers of The Great Republic Korea", "The Scales of Providence", "Law Firm" and other law-related drama has continuously gain low ratings. The main reason for the low rating is probably due to failure in obtaining a balanced cut off point between technicality and professionalism of law and popular demands.
But Can't Live with Losing has the determination of "never throw in the towel" to break the losing streak, as literally meant by the drama title, with the storyline which has the setting in a legal firm, and describes the process of divorce between lawyer couple. Lawyer couple who despise each other, the fierce infighting between counsels, lawyer who is having mood and feeling similar to a mortal man, even expertise of both sides, plus comedy elements, Can't Live with Losing has all the making of popular law drama that easy to understand by the public, and feel closer to them.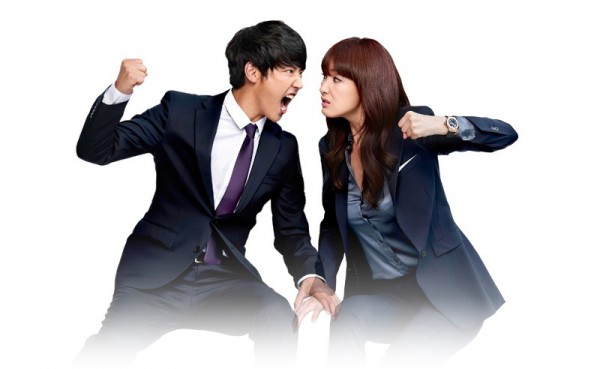 Here's the reasons on why Can't Live with Losing may finally break losing streak of law-themed drama and achieve high rating:
Originality of Korean version
"Can't Live with Losing" is adapted from Japanese TV drama named "Sasaki Fusai No Jingi Naki Tatakai." The Japanese series was aired once a week, and had a structure of short film that each episode has a complete story.
But the "Can't Live with Losing" will lead to another event at the end of event in each episode, causing the audience's curiosity, at the same time satisfy the curiosity and thrill. A television official said: "Recently, there is a trend of popular drama to intersperse with difficult to understand contents. Can't Live with Losing will enrich on such structure."
Charming actors
Choi Ji Woo is challenging to be "Romantic Comedy Queen" through Can't Live with Losing. Previously, she is famous with tears in various romantic loving drama. The self-destructive acting of Choi Ji Woo is the main reason to view the drama. In addition, the is a safeguard device in term of Yoon Sang Hyun, who is romantic comedy expert.
The team of supporting actors is very strong too. Kim Jung Tae who was popular via KBS2 TV variety show "Happy Sunday" and starred in "2 Days 1 Night", and branded supporting cast Sung Dong Il are part of the team. Coupled with Park Won Sook and Kim Ja Ok who plays as grandmother and mother-in-law concept creates a perfect combination.
Can't Live with Losing premieres from August 24, 2011. It initially became a talking point as the comeback work of Choi Ji Woo after her two years hiatus. But after various behind the scene photos and trailers been released, people is attracted to its unique lines and fast pace video. The successor of "Heartstrings" has became a highly anticipated drama.
However, to gain popularity is not easy for Can't Live with Losing. The time slot has been occupied by Protect the Boss from SBS and The Princess' Man of KBS2, where the rating of each show is approaching 20%. The combined rating is already 40%, making the job of Can't Live with Losing harder, especially for the late comer.