When talking about Choi Ji Woo, most people will associate her with romantic relationships with handsome actors in melodrama, with storyline which involves passionate love, intense kissing, and tears dropping sentiment. You probably won't recall Ji-woo in any funny moment or comedy role that can make you laugh.
But not anymore. Choi Ji Woo is going to challenge the comedy role for the first time in her 16-year acting career in the Can't Live with Losing (Can't Lose) romantic-comedy Korean drama. On August 17th 2011, at the press conference in Seoul for MBC's brand new TV series "Can't Live with Losing", Choi Ji Woo revealed her ambition to become the "Romantic Comedy Queen."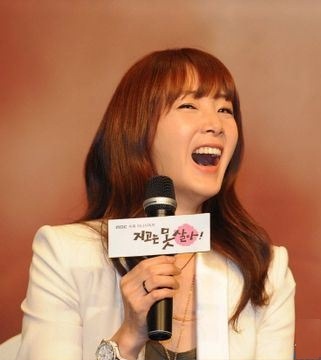 She said in the press conference that "It's been a while since I've been on drama series but I'm having a fun, it's an enjoyable time to be able to filming again. It's my first time on a romantic comedy, so I struggled at first. But Yoon Sang Hyun, who's strong with romantic comedies, helped me out a lot so I'm performing better. He has always been understanding when we have to do retakes because of me."
Known as the "Melodrama Queen" with distinctive image of innocent and weak throughout her career, Choi Ji Woo stated that "the "Melodrama Queen" image on me has been kept for 16 years, it's time to break it. I want to try on romantic comedy."
Ji Woo also revealed that through the "Happy Sunday" program on KBS, she has added a lot of new fans. "This surprised me. When acting for "Happy Sunday", I treated it as an outing, but after the show ended, the response was tremendous. Even stranger have became friendlier. Been getting a lot of care. I always have image of distant with human world, probably causing a lot to feel I'm inapproachable."
As Yoon Sang Hyun and Choi Ji Woo play out the end game of couple fights in the drama, Choi Ji Woo commented, "I don't have any fantasies of marriage. As many of my friends are married, the plots of the drama aren't all too unfamiliar."
"Can't Live with Losing" is a romantic comedy that depicts the fighting between a lawyer couple who both don't want to lose.