Hwanhee (Hwang Yoon-Seok) is singing the third OST (original soundtrack) for JTBC drama series, Padam Padam… The Sound of His and Her Heartbeats.
Padam Padam OST part 3 has the title of Don't Leave (가지마), and is released on January 16th, 2012. The song is collaborated between Hwanhee (환희 황윤석) and composer Jun Young.
"Don't Leave" is a ballad song that blends sweet notes from an acoustic guitar with Hwanhee's husky voice.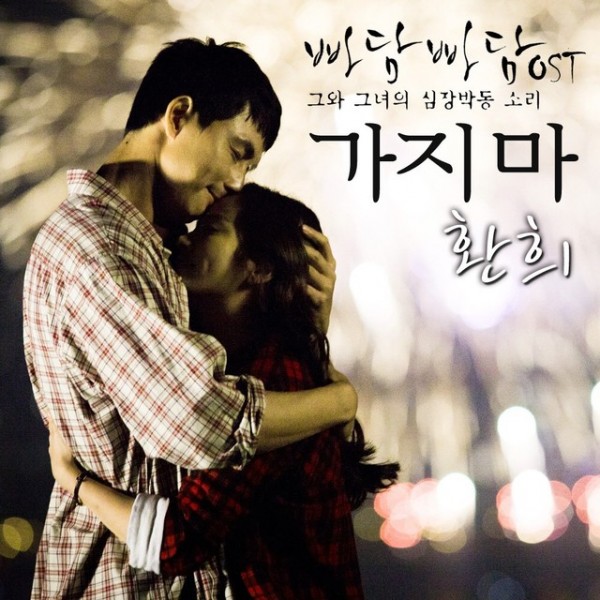 Padam Padam (빠담빠담… 그와 그녀의 심장박동소리) OST Part 3 Track List
Don't Leave – Hwanhee
Don't Leave – Instrumental
Listen to Don't Leave (가지마) at YouTube.
Don't Leave (가지마) Lyric
이별인 가봐 잡아도 떠나나 봐
잊으려 해도 지우려 해도 잊혀 지질 않아
사랑했던 기억 버리고 추억을 모두 잘라내도
자꾸 떠올라 또 생각나 지워지지 않아
넌 내 곁에 없는데
가지마 너 가지마 마지막인 내 사랑
나 서럽게 서럽게 울어도 넌 내게 없잖아
울지 말자 울지마 사랑해도 가질 수 없는 널 보내야 하니까
너무 아파서 가는 널 볼 수 없어
끝난 건가 봐 이젠 볼 수 없는 건가 봐
그대 때문에 내 모든 것들 바꿀 수 있었죠
믿어 달라는 내 고백이 이젠 물거품이 되 버렸어
잊지 말아요 우리 추억이 헛되지 않기를 간직하고 살게요.
가지마 너 가지마 마지막인 내 사랑
나 서럽게 서럽게 울어도 넌 내게 없잖아
울지 말자 울지마 사랑해도 가질 수 없는 널 보내야 하니까
너무 아파서 널 보낼 수가 없어
한번만이라도 널 다시 볼 수 있다면
잡고 싶어 너무 보고 싶어
힘들고 너 지칠 때 내가 필요 하다면
꼭 돌아와 돌아와 내 곁에 난 여기 있잖아
울지마 너 울지마 힘들어 하며 우는 니 모습 볼 수가 없잖아
행복해야 돼 니가 아픈 건 싫어
내가 웃을 수 있게
Don't Leave (가지마) Lyric Romanization
ibyeo-rin gabwah jabado tteonana bwah
ijeuryeo haedo ji-uryeo haedo ijhyeo jijiranha
sarang-haet-deon giyeok beorigo chu-eo-geul modu jallanaedo
jakku tteo-olla tto saengganna jiwojiji anha
neon nae gyeote eom-neunde
kajima neo kajima majimagin nae sarang
na seoreob-ge seoreob-ge u-reodo neon nae-ge eoptjanha
ul-ji mal-ja ul-jima sarang-haedo kajil su eom-neun neol bonaeya hanikka
neomu apaseo ganeun neol bol su eop-seo
kkeunnan geonka bwah ijen bol su eom-neun geonka bwah
keudae ttae-mune nae modeun geot-deul bakkul su isseot-jyo
mideo tallaneun nae kobaegi ijen mul-keopumi dweh beoryeosseo
i-jji marayo uri chu-eo-gi heot-dweh-ji anhgireul kanjikha-go sal-keyo.
kajima neo kajima majimagin nae sarang
na seoreob-ge seoreob-ge u-reodo neon nae-ge eoptjanha
ul-ji mal-ja ul-jima sarang-haedo kajil su eom-neun neol bonaeya hanikka
neomu apaseo neol bonael suga eop-seo
hanbeon-manirado neol tashi bol su it-damyeon
jab-go shipeo neomu bogo shipeo
himdeul-ko neo jichil ttae nae-ga pilyo hadamyeon
kkok do-rawah do-rawah nae gyeote nan yeo-gi it-janha
ul-jima neo ul-jima himdeu-reo hamyeo uneun ni moseub bol suga eoptjanha
haengbo-khaeya dwaeh ni-ga apeun geon shirheo
nae-ga useul su itke
Don't Leave (가지마) Lyric English Translation
This is the parting, even if I try to keep you, you will still leave
Even if trying to forget, trying to erase, it's impossible to forget
Even if abandoning the memory of love, truncating all memory
But still emerge, always remember, cannot forget the past
You are not by my side
Don't leave, don't leave, my last love
Even if I cry grievingly, you will not come back to my side
Don't cry, don't cry, even if I love you wholeheartedly, I still cannot have you
I should let you go, but because of too painful, I can't see the leaving you clearly
It's the end, I will never see you again
Because of you, I can change everything
Please believe my confession has now become a bubble
Let's not forget, don't let our memory in vain, I will keep it in heart
Don't leave, don't leave, my last love
Even if I cry grievingly, you will not come back to my side
Don't cry, don't cry, even if I love you wholeheartedly, I still cannot have you
I should let you go, but because of too heartache, I can't let go of your hand
If I can see you again, even if only once
I will hold onto your hand, because I miss you too much
When you feel tired, if you need me
Please you must come back to me, because I will always be here
Don't cry, don't cry, I can't you who cry because of suffering
You must be happy, I hate to see you cry
I can able to smile again