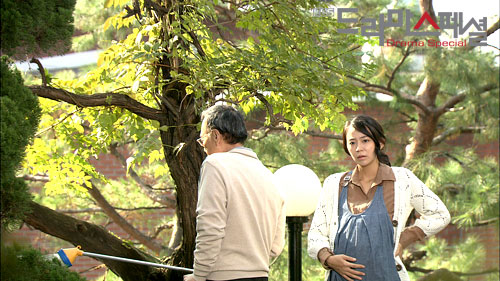 Drama Title: Duet
Korean Title: 이중주
Revised Romanization: I-joong-joo / Ijungju
Chinese Name: 二重奏
Genre: Drama
Language: Korean
Episodes: 1
Broadcast Place: South Korea
Broadcast Network: KBS2
Broadcast Period: 13 November 2011
Air Time: Sunday 11:25 PM
Preceded by: Behind the Scene of the Seokyung Sports Council Reform
Followed by: Sorry I'm Late
Plot Summary / Synopsis
A love story about a good pastor and a woman.
Cast
Jeon Seong-hwan (전성환) as Han Soo-seol (한수설)
Sim I-yeong (심이영) as Choi Yeong-ae (최영애)
Jeong In-seo (정인서) as Han Joon-hee (한준희)
Jo Jae-wan (조재완) as Han Min-gyoo (한민규)
Choi Jong-ryeol (최종률) as Oh Sil-jang (오실장)
Production Credits
Director: Mo Wan-il (모완일)
Screenwriter: Kim Hye-jin (김혜진)
Trivia
The drama is 45th part of KBS "Drama Special" miniseries.
Watch online with English or Chinese subtitle (not yet available).
Photo Gallery