Actress Han Hye Jin (31 years old) cut short her black long hair, turned into a short haired girl. Han Hye Jin is playing the role of neurosurgeon Lee Hae Jo who has strong self-esteem and outstanding capability in JTBC Monday and Tuesday drama series Syndrome. In order to perfectly portray the role, Han Hye Jin decisively cut her long hair.
– It is said that you've always wanted to challenge the medical TV series, right?
"Yes. The shooting of this kind of drama is very hard, has to have full preparation in advance, is a rare genre for drama series. Therefore, I often think that I should try to challenge it if given the chance. When I received the script of the Syndrome it was before the debut of JTBC channel, at that time I didn't have a precise concept on JTBC, didn't understand the production team, but I still decided to star in the drama, because the role is very charming."
– It is easy for the people to compare this drama with the recently ended medical themed drama series Brain, Syndrome when comparing with Brain and other medical dramas, what's the differences?
"First of all, very thank you for comparing me with the higly acclaimed TV series. However, other than Syndrome and Brain both has similar theme, the images of characters and the setting scenarios are completely different. Generally drama usually has only two hero and heroine to lead the development of the whole story plot, but the plot of the Syndrome is built around six characters, so the story is more colorful."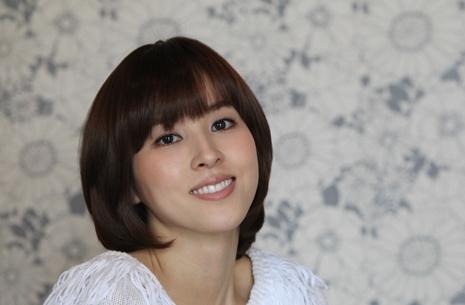 – What kind of drama you hope that Syndrome can become?
"I hope it can become a popular drama series that is well loved and supported by TV series fans, and also hope that it can become a drama series with a stronger sense of identity by audience. Hope that the surgery scenes in future can be even more simple and agile, presenting even more clearly the feelings of main characters to audience. During shooting, very series in every scenes, hope to present a high quality drama to the audience."
– How the atmosphere at the shooting scene?
"The atmosphere is very harmonious. Park Gun Hyung and Song Chang Ui prepare for the drama like a musical performer, other actors who participated in shooting rest silently in the car to wait for the shooting, but both of them has been "mamama" all the while to practice the voice, they also sing during rest time, very interesting. Thanks to both of them, making the atmosphere on the shooting set really good."
– Have been in relationship with singer Naul for 9 years, when do you plan to marry?
"We often heard people around us said the kind of words, 'two people in love relationship for too long, cannot not marry anymore, dangerous.' But in fact, we haven't think exactly when, how to marry. As an artist, even if marriage will be getting attention, cannot privately and quietly prepare, so need to be very careful."
– Previously you have always wanted to participate in entertainment and medical drama, and now the dream has been achieved, is there any other role that you particularly want to challenge?
"I want to be an actress since when I was in high school, perhaps because of having my own dream and goal, has always been very obedient, did not provoke any trouble, did not skip school, this life is too ordinary and boring, in future want to live more passionately. If given the chance, hope to go for language training myself, without family members and friends around, live carefree for some time."
via Joongang Daily