The GTV In Time with You (I May Not Love You) concluded its last episode on December 11th, 2011, and Cheng You Qing and Li Da Ren played by Ariel Lin Yi Chen and Chen Bo Lin eventually tied the knot. Although they only get together in the last episode, but in the episode they kissed 15 times, sweetness intoxicated the fans. In addition, "The End?" with question mark was shown at the end of the drama, couple with announcement from the official Facebook page that there is more treasure box, has made the fans look forward to the birth of a sequel. But the screenwriter said that there should be no sequel to the drama series, but does not rule out a movie.
From dating to honeymoon, the final episode of In Time with You is extraordinary lovely. Li Da Ren unrequited loved heroine for 15 years, and all the scenes of lover couple compressed on the last episode, intense frequent kissing to fight for ratings. The two persons kiss every 7 minutes, and in nearly 2 hours they had kissed 15 times.
Screenplay writer Xu Yu Ting said, "Qu You Ning is a very very sweet person, so the part of kissing, a lot is to satisfy director himself, which failed to satisfy in the previous 12 episodes."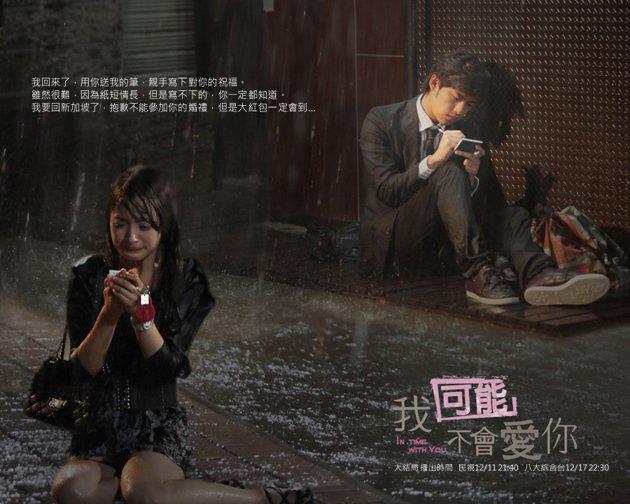 In the end, a question mark was delibrately added to the end of "The End" message, seemingly want to tempt the viewers. Screenwriter Xu Yu Ting said, "Actually, in the original planning of the script, they have a plot during university time, but may be because the script I wrote is too long, and the director shot too delicate, there is a part of story in university that was let go."
Screenwriter Xu Yu Ting hinted, production team intends to plan a movie version of the story. The promotion model at the end of the drama is similar to The Fierce Wife. crew intentionally planned by the film version of the story, drama ending propaganda model, and the sharp one wife is somewhat similar. Idol drama "I may not love you": "Now two people travel, love to Peini find each fine."
Ariel Lin traveled abroad in the last episode of In Time with You, the Lan Tian Wei (Chris Wang) of The Fierce Wife also traveled abroad as backpacker, leaving an open endng to viewers. Both dramas paving the way for future development at ending, hoping to retain popularity, continuing to create topics.
via TVBS