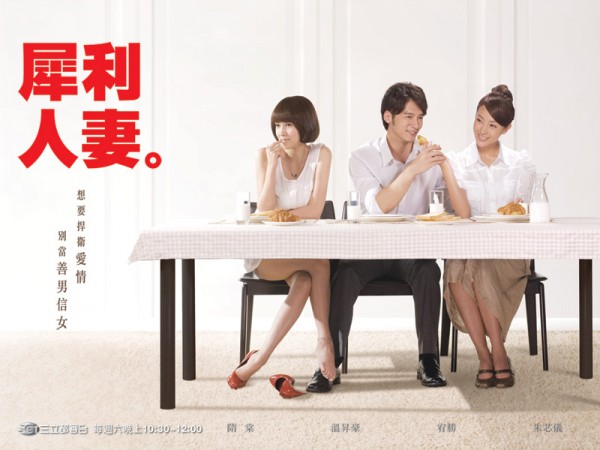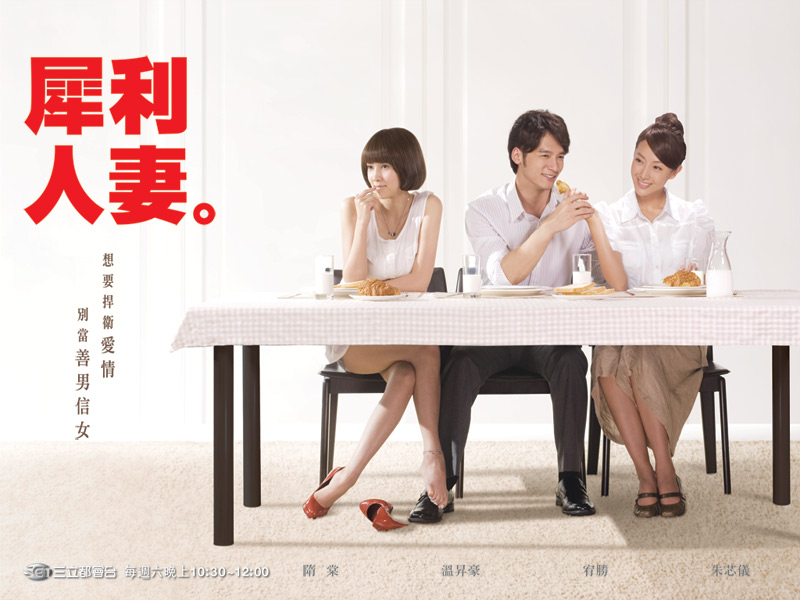 Drama Title: The Fierce Wife
Also Known As: The Shrewd Wife / Xi Li Ren Qi
Chinese Title: 犀利人妻
Japanese Title: 結婚って、幸せですか (結婚真的幸福嗎?)
Genre: Drama, Romance
Episodes: 23
Broadcast Place: Taiwan
Broadcast Network: TTV / Sanlih E-Television Metro
Broadcast Period: 5 November 2010 to 15 April 2011
Language: Chinese
Air Time: Friday 22:00 – 23:30 on TTV and Saturday 22:30 – 24:00 on SET Metro
Cast
Sonia Sui (隋棠) as Xie An Zhen (謝安真)
Wen Sheng Hao (溫昇豪) as Wen Rui Fan (溫瑞凡)
Chris Wang as Lan Tian Wei (藍天蔚)
Amanda Zhu (朱芯儀) as Lai Wei En (黎薇恩)
A Bao (阿寶) as Wen Yu Meng (溫雨萌)
Hu Ying Zheng (胡盈禎) as Wen Rui Xuan (溫瑞萱)
Patrick Li (李沛旭) as Hao Kang De (郝康德)
Mini Bin (迷你彬) as Hao Zhuang Zhuang (郝壯壯)
Guan Yong (關勇) as Wen's Father (溫父)
Zhou Jia Li (周嘉麗) as Wen's Mother (溫母)
Pan Li Li (潘麗麗) as Xie's Mother (謝母)
Xi Man Ning (席曼寧) as Lan's Mother (藍母)
Janel Tsai (蔡淑臻) as He Ai Lin (何愛琳)
Fu Lei (傅雷) as Manager Zhuang (莊總經理)
Lin Zhi Xian as Police
The Fierce Wife Drama Characters Description
Production Credits
Producer: Wang Pei Hua (王珮華)
Director: Xu Fu Jun (徐輔軍)
Screenwriter: Yang Hai Wei (楊海薇)
Synopsis / Plot Summary
Wen Rui Fan and Xie An Zhen are a happy married couple.
An Zhen knew Rui Fan through her classmate Wen Rui Xuan who is also Rui Fan's sister. Rui Fan is a top student in national university, but An Zhen only graduated from high school, at that time Rui Fan always met An Zhen, and found that An Zhen has a crush on him, and he also found An Zhen is cute and innocent, both gradually come together. Ten years ago, Rui Fan's father is sicked gravely, his family said joyful event will bring luck, thus Rui Fan determined to marry An Zhen. They married, and his father really recovered. But his mother is somewhat dissatisfied, believe that if based on qualifications, her son is very hard done by. So, to the daughter-in-law, Wen's father is loving while Wen's mother is finding quarrel in a straw.
The marriage between Rui Fan and An Zhen surprisingly harmonious and happy. Because An Zhen is really hardworking and meticulous, Rui Fan does not worry about anything else, just concentrate the effort on career, and achieve today's proud achievements.
Although Rui Fan is busy and cannot dedicate time to family, but he is very grateful to An Zhen, and is faithful to the wife as reward. He is always surrounded by pretty women outside, but never been seduced, and been called person with moral authority. He's handsome, capable, good man image, he did become a part of the company's image, making him as one of the popular candidate as general manager.
Today, their daughter Wen Yu Meng, is six years old this year, is slightly fat and cute, precocious little girl, she is especially close with father, only listen to the words of father, but often losing his temper with her mother, so An Zhen is helpless. Rui Xuan often secretly nicknamed Yu Meng as the "Little Three" – youngest third party.
Rui Fan and An Zhen have married for ten years, though the passion has been lighten, but still full of warmth.
An Zhen always records her life and thoughts of marriage in her "Bible" – a clippings book. Within the vast amount of newspaper cuttings, all collected is about how to be a good wife article, from the wedding day, she was determined to be a perfect wife, to create the perfect family.
Wen Ruixuan and Hao Kangde couple is quarrelsome lovers, always quarreling, but will unite when there is outside enemy. The advantage of Hao Kang De is wit, sense of obligation, he likes rich and exciting life, so cannot help but looks for affairs, occasionally have affairs, which almost trains Rui Xuan as expert in sporting lies.
The third party between Rui Fan and An Zhen is Lai Wei En, her parents divorced when she was ten, each remarried, and have children after remarriage, so Wei En has a bunch of siblings of with same father different mother or same mother and different father. Long years of wandering in between the two families, she experiences total neglect and bullying, so Wei En develops a strange personality: looks like a lively kitten, but heart likes very alert hedgehog. Her model of feelings, is in fact a repeat of experience during childhood where she wanted care but didn't get it.
When An Zhen's husband cheated on her with her cousin, the ensuing divorce became a battle of love and wits.
Episode Synopsis
Episode Ratings
| Date | Episode | Rating (1st Broadcast) | Rating (2nd Broadcast + 1 Day) | Viewership Ranking |
| --- | --- | --- | --- | --- |
| 5 November 2010 | 1 | 1.07 | 1.16 | 2 |
| 12 November 2010 | 2 | 1.02 | 0.92 | 2 |
| 19 November 2010 | 3 | 0.91 | 0.81 | 2 |
| 26 November 2010 | 4 | 0.96 | 0.80 | 2 |
| 3 December 2010 | 5 | 0.96 | 1.00 | 2 |
| 10 December 2010 | 6 | 1.11 | 0.80 | 2 |
| 17 December 2010 | 7 | 1.33 | 1.00 | 2 |
| 24 December 2010 | 8 | 1.46 | 0.90 | 2 |
| 7 January 2011 | 9 | 1.44 | 1.09 | 2 |
| 14 January 2011 | 10 | 1.47 | 0.90 | 2 |
| 21 January 2011 | 11 | 1.54 | 0.97 | 2 |
| 28 January 2011 | 12 | 1.81 | 1.30 | 2 |
| 4 February 2011 | 13 | 1.93 | 1.16 | 2 |
| 11 February 2011 | 14 | 2.43 | 1.61 | 2 |
| 18 February 2011 | 15 | 3.12 | 2.25 | 2 |
| 25 February 2011 | 16 | 4.57 | 2.71 | 2 |
| 4 March 2011 | 17 | 6.31 | 3.07 | 2 |
| 11 March 2011 | 18 | 7.11 | 2.89 | 1 |
| 18 March 2011 | 19 | 6.87 | 3.03 | 1 |
| 25 March 2011 | 20 | 7.28 | 2.57 | 1 |
| 1 April 2011 | 21 | 6.62 | 1.26 | 1 |
| 8 April 2011 | 22 | 6.43 | 0.86 | 1 |
| 15 April 2011 | 23 | 9.45 | 1.02 | 1 |
Source: ACNielsen
Official Site (TTV)
Official Site (SET TV)
Official Site for Japanese Broadcast
The Fierce Wife Trailers
The Fierce Wife MV (Tagalog)
The Fierce Wife OST and Theme Songs
The Fierce Wife Theme Song (Tagalog)
Watch online with English and Chinese subtitle at viki.com.
Watch online with Chinese subtitle at letv.com, tudou.com, youku.com
News and Interview
Photo Gallery