The TTV and SETTV romantic comedy TV series Office Girls with the theme of working place has managed to achieve record setting rating again with 5.17 by episode 9 aired on October 16th, 2011. In particular the category of 35 to 44 years old, the rating was as high as 8.04. And the show had been watched by 6.97 million viewers in Taiwan, and becoming the idol drama with the highest ratings for the year 2011.
Janel Tsai official joins in the acting in Office Girls drama from episode 10 broadcast on October 23rd, 2011, where she plays Wei Min Na, a international famous model, who is also the girlfriend of fashion designer Yu Cheng Feng (played by Wen Sheng Hao), and daughter of wealthy family. She returns to Taiwan to settle their relationship issue after watching the rumor about Yu Cheng Feng and Sheng Xing Ren (played by Ke Jia Yan).
Wen Sheng Hao said with a smile that she has "princess disease," is totally different with intrepid personality in The Fierce Wife. Janel Tsai said, "It's because in the drama I am like an "angel," family is rich, I can have what I want, is a rich wayward daughter!" As for whether both of them will have any intimate scene in the drama, Wen Sheng Hao laughed and said, "We're a lover in the drama, in reality we've close understanding too, so it should be easy."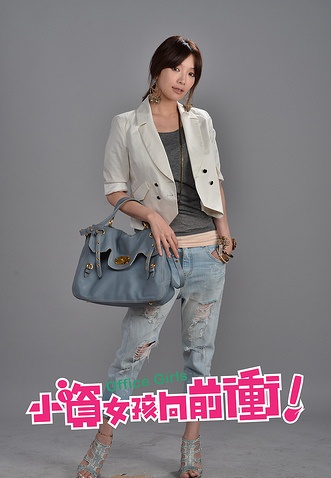 And the first appearance of her in the drama had left deep impression, Janel Tsai Shu Zhen said with a smile, "When Patrick Li saw me, he kept praising is beauty! Hottie! And I had to hold back the laugh until the director said cut."
In order to interpret this role, Janel Cai Shu Zhen purposely interacted with the rich kids, and observed their behaviors. She said with a smile: "Because have the money and the power, so I play the role to be more self-willed, like a fairy."
Netizens have been full of praise for the interaction of working place with comedy in the drama, especially with interaction between Roy Chiu and Li Pei Xu, which is hilarious! Janel Cai Shu Zhen said with a smile: "Shi Te Long and Qin Zi Qi are really fun, when they talk about car I always feel laughing, such as when using a pen to imitate the throttle pointer, they really have superb tacit understanding!"
Roy Chiu thought that the scene when he was bickering with Ke Jia Yan in the office, and Patrick Li Pei Xu was derogating them is funny. Wen Sheng Hao felt that the scene where "Complete Entertainment" reported the rumor of him with Ke Jia Yan, and Roy Chiu "turned the table" after hearing it is nicely done. And the rating had surged to 6.42 when Roy Chiu and Ke Jia Yan presented their proposals for own group on how to increase the sales by 10%.