The popularity of top superstar Jang Dong Gun who returns to the small screen after 12 years hiatus is soaring.
Jang Dong Gun plays the role of architect Kim Do Jin who is over 40 years old in SBS weekend drama "A Gentleman's Dignity" that debuted on May 26th, 2012, all of a sudden caught the attention of the audience.
"A Gentleman's Dignity" scored the viewership rating of 14.1% on debut, surpassing the rival "Dr. Jin" starring Song Seung Heon with the gap of 1.9%, and ranked at top position in terms of ratings for dramas of the same time slot. The second episode aired on May 27th, 2012 also firmly led the pack with 12.8% rating.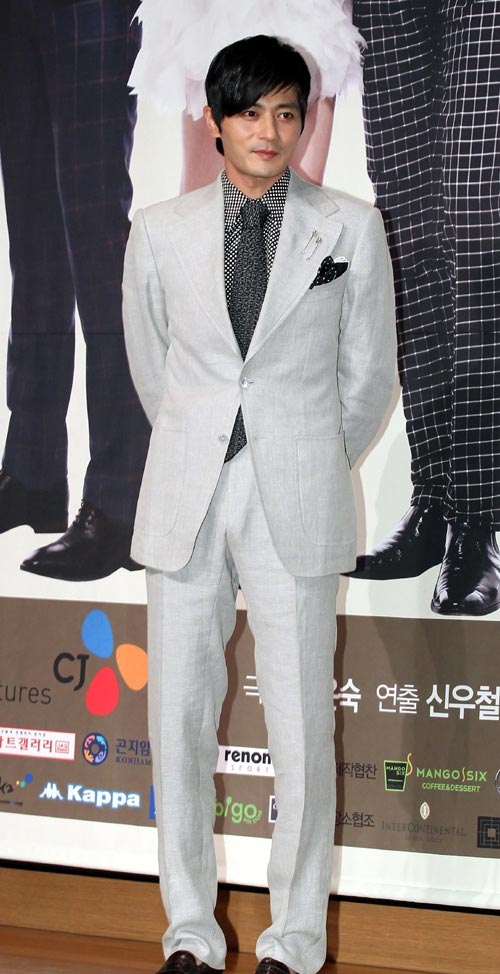 Jang Dong Gun attracts audience to glue to the TV with appearance that lives up to the expectation and acting skill. The smart fashion that matches with the title of "beautiful middle-aged man" aroused heated discussion. With the just 2 episodes been broadcasted, the man's fashion of Jang Dong Gun's style in "A Gentleman's Dignity" is launched at online shopping mall.
Netizens said, "Best in stable acting, best in fluent lines", "No less if called as male version of 'Sex and the City'" and so on.
In contrast, MBC fantasy medical drama "Dr. Jin" which tells the story that happened when genius doctor Song Seung Heon time travels to Joseon Dynasty around 1860s is criticized as the characters that debuted at early stage are too lofty, and the love scene is very sudden. Thus the attention is on who will win and who will lose in the showdown of "Dr. Jin" and "A Gentleman's Dignity".