In the episode 1 of KBS 2TV drama Love Rain broadcast on March 26th, 2012, staging the scene of Seo In Ha (Jang Geun Suk) and Kim Yoon Hee (SNSD member Yoona) encounter for the first time. In the day's episode, Jang Geun Suk changes from the image of wile and free in previous dramas, perfectly transforms into a handsome undergraduate who is innocent, gentle and considerate.
In Ha falls in love at first sight of Yoon Hee on the university campus. In Ha recites fondly the poem in the teahouse, "One, two, three, in just three seconds, I fall in love," he discovers Yoon Hee who is sitting on the bench outside of the window by chance, and cannot control himself but concentrates on painting her sketch. Yun Hee suddenly disappears, In Ha goes out to look for her, and carelessly collides with her. In Ha picks up the book for her, the first encounter has already bloomed flower of love. In Ha recalls the memories of the past, muttering, "Very funny, I really think at that time that the reason I was born is to love her wholeheartedly," in order to pay all my body and mind to love her," expressing his feelings for her.
In TV series Love Rain, it's impossible to see the look of Hallyu star Jang Geun Suk. He perfectly reproduces the role of In Hwa who excited for the first love and sad for the staggered love. Although there was people who pointed out that Jang Geun Suk is not suitable to play the role of In Ha, but he perfectly portrays the personality of the character through wholehearted acting. Especially when In Ha remembers the beautiful past memories and mutters to himself, and love at first sight to Yoon Hee, also makes the audience reminiscent of the pure and simple emotions when young, fascinating.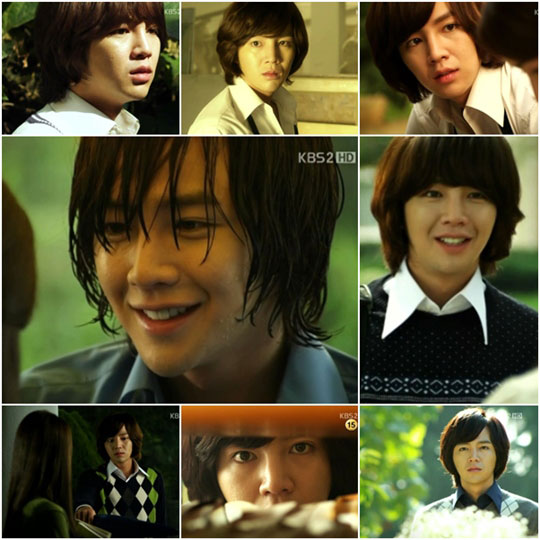 In addition, on the day's episode, In Ha decides to abandon his courtship of Yoon He after knowing that his good friend Lee Dong Wook (Kim Si Hoo) also likes Yoon Hee.