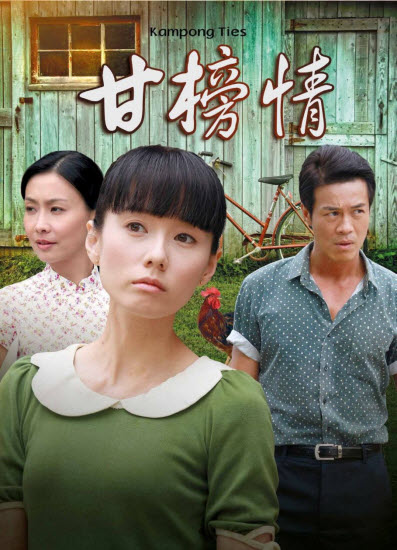 Drama Title: Kampong Ties
Chinese Name: 甘榜情
Genre: Drama
Episodes: 30
Broadcast Place: Singapore / Malaysia
Broadcast Network: Singapore Channel 8 / Malaysia ntv7
Broadcast Period: October 24, 2011 (Channel 8) / September 27, 2011 (ntv7)
Air Time: Monday – Friday 19:00 – 20:00 (Channel 8) / Monday – Thursday 22:00 – 23:00 (ntv7)
Language: Chinese
Running Time: 46 minutes
Preceded By: The Spirits of Love or Love (Channel 8) / Forget Me Not (ntv7)
Followed By: Code of Honour
Plot Summary
The drama depicts the life in kampung (village) around 60s and 70s era where women are slowly raising their voice to be heard although many are still struggling from mistreatment.
Lin Shui Xian (played by Yvonne Lim) was forced by her foster mother to marry Wang Li Hai (played Shaun Chen) for money. Li Hai is a STD (sexually transmitted disease) carrier, whom later died in an accident, leaving Shui Xian a young widow.
Feng Yue Man (played by Ann Kok) is married to Jia Qing (played by Zhang Wen Xiang), an abusive man, and is mother to a mute baby girl and as the result suffers abuse at the hands of her husband and father-in-law. One day, Shui Xian accidentally kills Jia Qing but was saved when Yue Man claims that her husband was killed by his debtors.
The two then become bosom friends and leave the village to carve out their own destiny. They then meet Zeng You Bao (played by Zheng Geping), the head of a secret society, who helps them face the many challenges in life.
Synopsis
On the 70s, Lin Shui Xian is marrying long distance into Wang's family in the village. On the day of marriage, the daughter-in-law of grocery store Feng Yue Man (played by Ann Kok) kills her daughter with poison, and attempts to commit suicide. Because of wedding and funeral bumps together, villagers have been discussing non-stop.
After marriage, husband Wang Li Hai goes to the town to work, Shui Xian is left alone. Because of Yue Man is giving birth to a mute baby girl, she suffers abuse at the hands of her husband Cai Jia Qing and father-in-law Cai Tian Shi. Shui Xian feels pity towards her and they becomes bosom friend.
Jia Qing fancies about the beauty of Shui Xian and goes to public bathroom to peep on Shui Xian taking bath, as a result he falls into the river and dies. Shui Xian is charged with murder. Only after Yue Man claims that the real culprit who responsible is Jia Qing's debtors that Shui Xian is released. Tian Shi hates Yue Man bitterly, he sells the grocery store and goes to other place with his grandson.
Later, Shui Xian discovers that Li Hai has been infected with venereal disease. To carry on the family, Wang family bribed Shui Xian's foster mother who then hoodwinked and arranged Shui Xian to marry with Li Hai, became a casualty. After Li Han killed in car accident, Shui Xian is thrown out of the family.
From now on, Shui Xian and Yue Man support and help each other in difficulty, they sell noddle in the night market for living. They get to know Zeng You Bao who has the "Buaya King" nickname. They believe character of him of basically good is actually not bad, so help him to leave the secret society, and three of them is caught in a delicate triangular romantic relationship. Han Xiu Yuan who uses to have feeling for You Bao turns her love into hatred, set up You Bao for life imprisonment. And, Shui Xian is certified to be infected by latent virus of Li Hai.
After many years, Tian Shi and grandson backs to the village in order to correct the injustice for You Bao. Shui Xian matchmaking You Bao and Yue Man. Sisters who have experienced many vicissitudes of life finally welcome a new spring.
Cast
Yvonne Lim (林湘萍) as Lin Shui Xian (林水仙)
Ann Kok (郭舒贤) as Feng Yue Man (冯月满)
Zheng Geping (郑各评) as Zeng You Bao (曾友宝)
Shaun Chen (陈泓宇) as Wang Li Hai (王立海)
Zhang Wen Xiang (张文祥) as Cai Jia Qing (蔡家青)
Wang Yu Qing (王昱清) as Cai Tian Shi (蔡天狮)
Ng Hui (黄慧) as Han Xiu Yuan (韩秀圆)
Kampong Ties Characters Description
Production Credits
Executive Producer: Yang Xi Bing (杨锡彬)
Trivia
Kampong Ties is a production of Singapore's MediaCorp Studios Malaysia, who sold the broadcasting rights to ntv7.
Kampong Ties was originally scheduled to premiere in Singapore in June, but was delayed to October to finish the airing of The Spirits of Love (爱). The Spirits of Love was originally aired seven days a week, but was shorten to five days a week for broadcast of Night Market Life (夜市人生). As the result, Malaysia's ntv7 will see the debut of "Kampong Ties" drama as scheduled on end of September ahead of Singapore.
The drama was shot against the backdrop of magnificent lush greenery in a secluded part of Sungai Lembing in Kuantan, Pahang, Malaysia.
Official Site (Channel 8)
Official Site (NTV7)
Kampong Ties Trailers
Kampong Ties Interview Videos
Watch online with English subtitle at xinMSN or youku.com.
Photo Gallery