In recent years, there are many South Korean idol singers who enter the filming industry, starting out an acting career. For example, After School member UEE who starts to star in TV drama series in 2009, Girls Generation member Yoona, Miss A member Suzy have successfully entered the ranks of actresses through excellent performance in the drama. Among them, UEE has been applauded by audience for her performance in many roles. On the contrary, Ku Hye Sun and Han Ye Seul have debuted for more than 10 years, but are now in crisis due to bad acting.
– UEE performance up to standard won praise, Ku Hye Son stereotype expressions criticized
On February 4th, 2012, UEE has touched many audiences with tragic acting. UEE participated in the filming of KBS2 weekend drama Ojakgyo Brothers, perfectly reproduces the role of girl who is distraught due to lovelorn, getting a lot of the audience's sympathy and tears.
In the Ojakgyo Brothers broadcast on the February 4th, 2012, Baek Ja Eun (UEE) is breaking up with her boyfriend Hwang Tae Hee (Joo Won) because of traffic accident involving father, and once again heard from Kim Je Ha (Jung Suk Won) that she is the daughter of assaulter, feeling very sad. UEE is using superb acting to portray the feeling of Ja Eun, well received by the audience.
On the contrary, Ku Hye Sun who has debuted for more than 10 years in 2012, has been criticized by viewers for the acting expression that all of the same. Ku Hye Sun who is currently starring in SBS drama Take Care of Us, Captain is criticized as "acting expression that is the same over 10 years." Netizens exposed online that the screencap photos of Ku Hye Sun in various films such as "Nonstop," "The King and I," "Boys Over Flowers," "Take Care of Us, Captain," where her expressions are almost the same.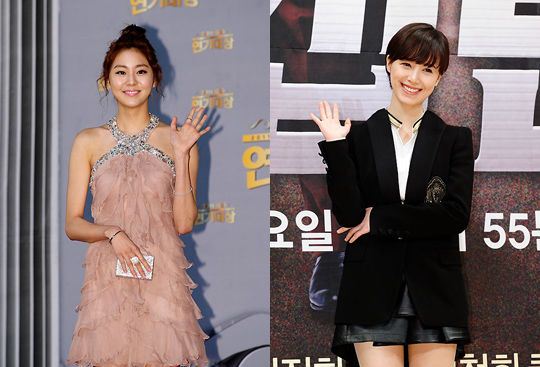 – Analysis of roles of UEE and Ku Hye Sun
Actually it's not smooth sailing for UEE after she entered the road of actress. When she starred in her first drama, You're Beautiful, she had been criticized to have bad acting too, but later her acting gradually improved, and won the recognition from audience. After UEE was selected as the heroine for golf themed drama "Birdie Buddy," she further accumulated acting experience to become a mature actor. In TV drama series "Birdie Buddy," UEE played the role of hardworking Sung Mi Soo who successfully realizes the dream of becoming a golfer. Through the drama, UEE began to show even more mature acting. UEE's healthy image and the image of golfer Sung Mi Soo is very matching, and the emotion acting and sadness acting performed by UEE also attracted a broad audience.
Then, via the TV series "Ojakgyo Brothers", UEE completely gets rid of the burden of "idol" status, successfully enters the rank of actress. UEE who was selected as the lead actress of "Ojakgyo Brothers" completely gets rid of the burden for acting, becoming the main contributor to the success of the drama. In the drama, UEE is playing the role of Baek Ja Eun who is a severe shopaholic but later change after experiencing the importance of family bond as she enters ojakgyo farm. UEE realistically portrays the delicate emotion and sorrow scenes, and won the Best Newcomer Award in the 2011 KBS Drama Awards. The acting of UEE that is getting more and more stable won the recognition of the audience.
On the contrary, Ku Hye Sun gradually falls into the controversy about her acting strength, and received a lot of criticism. Previously, Ku Hye Sun used to been criticized for bad acting due to stiff lines memorizing and expression acting when starred in 2007's "The King and I." Then, Ku Hye Sun also appeared in "Boys Over Flowers" and "The Musical," seemingly the acting is not outstanding nor was praised.
However, when starring in "Please, Captain," the acting of Ku Hye Sun is again in the crisis of not been approved by the audience. In TV series "Take Care of Us, Captain," Ku Hye Sun is playing the role which is very similar to the roles she played in previous drama, which is a positive girl, and the expression is also identical.
Actually, after Ku Hye Sun becomes popular through her debut drama "Pure in Heart," she has mostly plays the role of positive girl who can endure hardship and work tirelessly since then. In the production press conference of "Take Care of Us, Captain," Ku Hye Sun also said, "Hope to build an image of positive and hardworking through me, showing the real image of Ku Hye Sun." If Ku Hye Sun successfully creates a lively and positive image, then as an actress she may benefit, but the audience no longer feel fresh with "Ku Hye Sun type of positiveness and hardworking." Although this is an aviation theme drama, but the lack of professionalism and unfolding of old-fashioned story lack scope for Ku Hye Sun's abilities.
So, the performing stage of idol actors such as UEE is becoming broader and broader, but the foothold of numerous actors such as Ku Hye Sun gradually reduced. Perhaps should not continue to stubbornly cling on past successful "image of positive and hardworking," but should be trying to challenge a variety of image.
via TVDaily