The lead actors of SBS new Wednesday and Thursday drama Take Care of Us, Captain was expressing gratitude to preceding drama series, A Tree with Deep Roots (Deep Rooted Tree).
On the afternoon of December 3th, Take Care of Us, Captain held its production press conference at the SBS Building at Mokdong, Seoul. On the press conference, when reporters asked, "The preceding drama Deep Rooted Tree at the same time slot was a success in its ratings, do you feel burdened by this," Gu Hye Sun answered, "Comparing with sense of burden, I think it's more of sense of responsibility. Because of the success of the predecessors, so as its successor, our drama is getting a lot of attention, this is some thing that we should appreciate. I feel that it's a blessing."
Ji Jin Hee also gracefully said, "Want to say thank to the production team of Deep Rooted Tree. The ratings of preprocessor was high, the response was also good, and we will be impacted by its elasticity, achieving greater leap forward."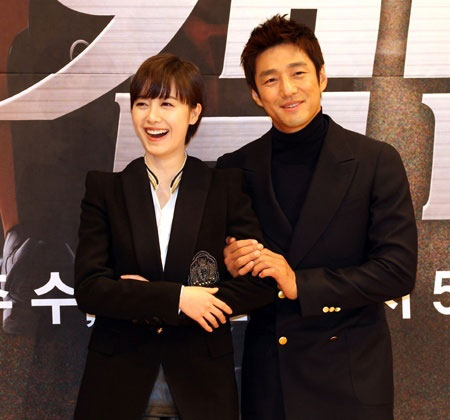 Deep Rooted Tree is the predecessor of Take Care of Us, Captain. Its ratings exceeded 20%, and was one of the favorite TV series for the viewers in 2011. In particularly it's the comeback project of Han Suk Kyu to return to small screen after 16 years, and he won the Daesang Award at year end's Drama Awards, which put the drama at the center of discussions. Therefore, whether Take Care of Us, Captain can continue the ultra-high popularity of Deep Rooted Tree has attracted attention well before its debut.
Take Care of Us, Captain debuts on January 4, 2012.
via Joongang Daily