Description of various characters that appear in Love Keeps Going Taiwanese drama series, plus brief introduction to the cast with information of actors and actress.
Cha Mei Le (查美樂) – acting by Cyndi Wang (王心凌)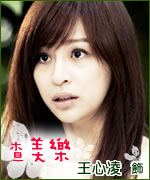 Female, 25 years old. Person as her name implied, kind hearted, passion and straightforward, it's almost impossible to find trace of frustration and give up on her body.
She has the spirit of thrifty, and shoulder the family economy individually, and is also proud to being Hakka, always innovate and develop Hakka traditional culture best loved by mother, including Hakka cuisine, broad rice noddle, Lei Cha, pickle, and in fact she is good in everything, most love to use the Hakka flower fabric to sew, and because of the Hakka culture, the home also has Hakka arts that belong exclusively to Cha's family.
She opened a bakery shop because of boyfriend Han Yi Feng, and immediately took the "C class baker certification" test. She also convinces that as she is so useful, there won't anyone in this world that don't want her anymore. But she inadvertently found that Yi Feng actually betrays her, and intimate with the female staff working in the bakery, and this causes her central idea developed since young to collapse.
He Yan Qin (何言沁) – acting by Cyndi Wang (王心凌)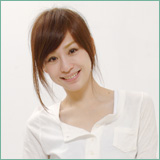 Female, 25 years old. Is the younger sister of He Yan Shao and vocalist. Looks exactly like Zha Mei Le, and passed away at young age. After Yan Qin passed away, her brother Yan Shao afraids that mother cannot accept the fact, and thus does not dare to let mother know. So he finds Mei Le to impersonate Yan Qin, but in the last his mother still know the trust that Yan Qin had passed away.
Cyndi Wang (王心凌) – Brief Info

Cyndi Wang, who is nicknamed "Sweetheart Leader", is called the "Four Leaders" in Taiwan musical scene together with Jolin Tsai, Angela Zhang and Rainie. Her 2003's idol drama "West Side Story" (西街少年) is receiving good response. After than, 2004's Heaven's Wedding Gown (天國的嫁衣) and 2006's Smiling Pasta (微笑pasta) both got high viewership ratings, and she became a new idol drama queen. In 2009's MoMo Love (桃花小妹), her fresh and natural acting was well received too. In addition to good performance in drama scene, her achievement in singing career is outstanding too. All her albums since debut is popular, and made famous many popular classic songs. To the young, she is a very popular female artist.
Han Yi Lie (韓以烈) – acting by Mike He Jun Xiang (賀軍翔)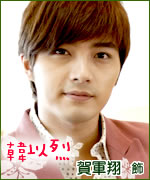 Male, 26 years old. A flourishing music composer, producer, with a personality that likes super motorcar, super downright hard to deal with. In the work he is meticulous, demands perfection, and is even more particular and demanding about life.
But there is one person who don't follow his wish, and that's elder brother's girlfriend Cha Mei Le. Since when they starting to open a bakery shop facing cash flow problem, until food tasting is satisfied and the food is ready to launch, Mei Le has became Yi Lie's nightmare. Initially thought after everything is on track, he will be able to back to previous overweening life, but unexpectedly, he is "restricted" by Mei Le's white toast. Yi Lie finds that if he doesn't managed to eat toast made by Mei Le, his emotion will became anxiety whole day, and any inspiration to compose completely disappeared!
Mike He Jun Xiang (賀軍翔) – Brief Info

Taiwan's new generation of idol, is also a well-known model. In 2003, he debuted in the "Seventh Grade" (七年級生), and received widespread attention. 2004's "Love Contract" (愛情合約), 2005's "Devil Beside You" (惡魔在身邊) frequently achieved impressive ratings, and push Mike's momentum to new heights. In 2007 he also participated in drama series "Yūkan Club" (有閑俱樂部) Japanese drama, successfully crossed over to the Japanese market, and he is currently the first-line idol drama actor in Taiwan.
Han Yi Feng (韓以風) – acting by Eli Shih Yi Nan (施易男)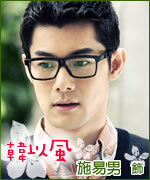 Male, 28 years old. Mei Le's boyfriend, gentle and polite personality, but indecisive, with Mei Le together made him felt happy, because his competent girlfriend Mei Le, not only has good personality, but also working hard to fulfill his casual words of wishing to have a bakery shop filled with sense of happiness, and unexpectedly the bakery shop is a success, with the business flourishing.
At this time, Yi Feng cannot resist the seduction of working girl in the bakery Xuan Xuan and has feeling and intimate affair with her, and in the end, due to the crying and trouble making skill of Xuan Xuan, he decides to break up with Mei Le. But after he lost Mei Le, he finds that he still love Mei Le, but Mei Le has no intention of going back!
Eli Shih Yi Nan (施易男) – Brief Info

Shi Yi Nan debuted after participated in the cast selection for third-generation "Little Tigers" (小虎隊), he later acted in "Hen Brings Duckling" (母雞帶小鴨) and became instant sensation, with outstanding performance in the drama. Also starred in "My Home Na San Ma Go" (納桑瑪谷我的家), "True Love" (十八歲的約定), "Virgin, Martyr, Bold Girl" (貞女、烈女、豪放女), "Eight Tael Gold" (八兩金), "A Cinematic Journey" (浪淘沙) and many other drama series, has very rich experience in drama scene, acting skill is natural and vivid, is one of the most skillful male actor from the young generation.
Cha Yu Cheng (查宇誠) – acting by Zhang Shan Wei (張善為)
Cha Mei Le's elder brother, brought up with the mother's fine tradition of Hakka spirit, optimistic by nature and open-minded, has has artistic talent. When he is a child, he won Headmaster Award, Mayor Award, Governor Award, Presidential Award and almost excel in everything, but he achieves nothing when grew up, and always have problems that required Mei Le to taken care for me. He is the best spokesman for the term "very bright in childhood, but not necessarily good in future." But later he found his area of expertise in designing field, bring creativity and ingenuity in her sister's bakery shop, use Hakka fabric and pottery to add value to the bakery shop and skill. In principle he is a lovable character, another extended character in the drama, because of in love with Yi Fei, and want to take care of Yi Fei and her kid, eventually become a responsible man.
Zhang Shan Wei (張善為) – Brief Info

Famous Hakka artist. Early days, he shot to fame with "Spicy Hot Teacher" (麻辣鮮師) acting as Ke Ji Ming (tadpole 柯志明), staring in many TV series, and took advantage to release an album "Insane" (失心瘋), which was also critically acclaimed. In recent years he active in children program with the image of "black brother", and because of Hakka descent he is also appeared in and had dazzling performance in Hakka television drama program "Youth in Tobacco Field" (菸田少年), nominated for best actor in Golden Bell Award, and also cameo in the idol drama.
Han Yi Fei (韓以霏) – acting by Albee Huang Hsiao Hsun (小薰)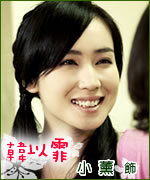 24 years old. Younger sister of Yi Lie and Yi Feng, typical strawberry generation (born after 1980s who can't suffer any hardship), do not know suffering of life, view towards love is too stupid and too naive. After she becomes unmarried mother and her boyfriend runs away gone forever, her life has not change much due to support from her mother, brother and Mei Le, until Mei Le breaks up with Yi Feng. Yi Fei no longer has source of income, and must learn to responsible for herself, eventually isa pair of quarrelsome lover with Yu Zheng.
Albee Huang Xiao Xun (小薰) – Brief Info

Due to eye-catching performance in Channel V's "I Love Blackie" (我愛黑澀會) program, she was selected as a member of teenage idol group "Black Girl" (黑Girl), beautiful appearance, lively personality, popular with young people alike. Used to release albums in the name of "Blackie Crush" (黑澀會美眉) and "Black Girl" (黑Girl), and take part in many cosmetic, beverage, jeans and many other advertising. Dramatic works are: "Forbidden 18" (十八禁不禁), "Brown Sugar Macchiato / Caramel Macchiato" (黑糖瑪奇朵), "The Legend of Brown Sugar Chivalries" (黑糖群俠傳) and so on.
Guo Xuan Xuan (郭瑄瑄) – acting by Michelle Zhang Jia Ning (張家寧)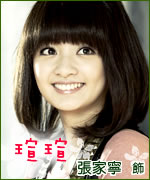 22 years old. Early death of her parents caused her to be kicked here and there among relatives, so in a very young age she has learned how to monitor the wind blows, in order to try her best to survive. She is a youthful, active, and talkative little girl, but quite calculative. After the bakery shop of Mei Le opened, Xuan Xuan comes to interview, initially Yi Feng quite disagrees, but Mei Le protects her, thinking that her beauty can attract business for the bakery, but unexpectedly attract a wolf.
Michelle Zhang Jia Ning (張家寧) – Brief Info

A new entrant in the entertainment world that gains attention, beautiful and sweet looking, she started to get attention when acting in "Forbidden 18" (18禁不禁) in 2007. In 2008 and 2009, she starred in "The Legend of Brown Sugar Chivalries" (黑糖群俠傳) and "Love.18" (逆風18). Between 2007 and 2008, she also anchored the "Gaming Empire" (電玩大帝國) program.
Mrs. Han (韓妈 / 韓母) – acting by Wang Yue (王月)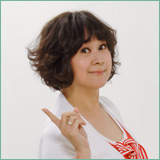 Mother of Yi Feng, Yi Lie and Yi Fei. In principle, she is happy, funny type of mother, children will always be her baby. She is always impacting Yi Feng to marry the wonderful Mei Le earlier; to her only daughter Yi Fei, she is even loving her like her own heart, even though Yi Fei has pregnant unmarried, she just murmuring but taking care of just born child together with Mei Li, and is extended character of the drama.
Wang Yue (王月) – Brief Info

Famous actress, became well know after acting in Meteor Garden (流星花園) as Shan Cai's mother. Her husband is Taiwan's famous playwright and dramatist (李國修).
Mrs Cha (查母) – acting by Linda Liu Rui Qi (劉瑞琪)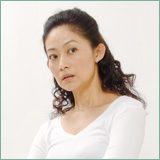 Mother of Cha Mei Le. Traditional Hakka mother, is very proud of being a Hakka, when divorced with Mei Le's father at early days, she complained about has to bring a foolishly Mei Le and not the elder brother Yu Cheng who is smart and outstanding since young. But who knows the sun suddenly change its course around the earth, and Mei Le is good to the extreme, and seems to become the proud of Hakka, not only let Mrs. Cha no need to worry about money, but also let her proud in front of other people. Nonetheless, she is still deeply rooted in patriarchal concept inside her heart, so when Yu Zheng got into trouble and seeked help from his mother, Mrs. Cha actually misappropriated and stolen the fund used by Mei Le to open bakery shop, causing the fund to short of 1 million dollars, and cause lots of trouble.
Linda Liu Rui Qi (劉瑞琪) – Brief Info

A Hakka artist, she was identified by Liu Ching Chieh (林清介) who is famous in making student films, and was invited to act in "Co-Ed Class" (男女合班) student film, and slowly gained fame after acting in several student films. In 1993, she became famous after starred in "Papa, Can You Hear Me Sing?" (搭錯車). Liu used to reduce appearance due to health issue, and re-appear after having physical and mental adjustment. From 2000, the number of drama series that she appeared in is increasing obviously, and the type of role has also transformed to motherly type. She can be seen in many idol dramas such as "Dolphin Bay Lovers" (海豚灣戀人) and "Autumn's Concerto" (下一站,幸福). She won the Best Actress award in Golden Bell Award for her act in "The Story of Three Girls" (女仨的故事).
Chu Shao Ying (楚少茵) acting by Liu Yan (柳岩)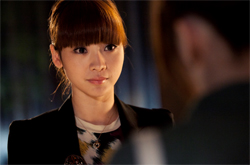 The broker agent for Han Yi Lie, but in addition to broker agent's identify, Shao Ying has a little love feeling towards Yi Lie, but unfortunately Yi Lie loves Cha Mei Le, causing Xuan Xuan revealed the trick of Xuan Xuan delibrately seduces Yi Feng and let Mei Le knew about it.
Liu Yan (柳岩) – Brief Info

Participated in "Beauty in City of Flower" (美在花城) activity in Guangzhou and entered entertainment industry. Have shot many advertisements and anchored many TV programs as host, is an artist with multifaceted development.
He Yan Shao (何言劭) – acting by Golden Zhang Lun Shuo (張倫碩)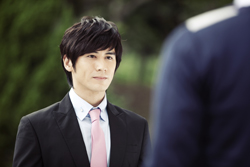 At the event venue of bread making contest, finds out that Cha Mei Le is very similar looking to He Yan Qin, so he actively invites Mei Le to join his team, has always got denied. After Yan Qin passed away, Yan Shao begs Mei Le to pose as Yan Qin to pull a fast one on his mother.
Golden Zhang Lun Shuo (張倫碩) – Brief Info

Graduated from Nanjing Art Institute, participated in "Mr. International Competition" (國際先生比賽) in 2008 and finished third, followed by participated in "Super New Talent Show" (超級新人秀), "Extraordinary" (非同凡響) and other game shows, all are given very good results. And has launched a single named "Home Road" (回家路), shot many advertising and MV.
Xiao Jie (小傑) – acting by Yu Hao Cheng (于澔丞)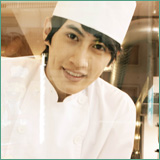 Bread assistant employed in Mei Le bakery shop, has straightforward personality, and together with another bakery shop staff Wang Yi, always want to set the record straight for Mei Le.
Yu Hao Cheng (于澔丞) – Brief Info

A new star from Domani, with eye-catching appearance, is a rising star worth the wait.
Xiao Jun (小君) – acting by Lene Lai (賴琳恩)
Ex-girlfriend of Han Yi Lie, but fall in love with Yi Lie's father eventually, causing the relationship between members of Han family broken. Until right before Mr. Han passed away, Xiao Jun begs Han family members to visit Mr. Han in hospital, and tells the love of Mr. Han towards Yi Lie.
Xiao Zhi (小志) – acting by Xiao Xiao Bin (小小彬)
Younger brother of Xuan Xuan, while he is small but because of the family background, he appeared to be quite precocious, could not bear the sacrifice sister has to do to support the family, hoping to share the burdens by growing up faster.
Mr. Han (韓父) – acting by Yi Zheng (伊正)
Fall in love with ex-girlfriend Xiao Jun of the son Yi Lie, causing wife and kids' misunderstand, also causing the relationship of Han's family members breaking up. Before passed away, hope to let family members know that although he is no forgiven, but he still care about them.